Commander is one of the most fun formats in Magic: The Gathering, and through all of my years of playing, I still love coming back to the table with a group of friends. While "fun" can be very subjective, I have compiled a list of legendary creatures that are generally fun commanders to play both with and against.
The most fun decks will always be the ones that you personally find the most enjoyable. While this is subjective, I always find that having some exciting synergy between your cards, a little bit of politicking, and a deck that will be tough for your opponents to beat makes for a fun deck.
There are so many different ways to play EDH and many different commanders to choose from. With that said, I have detailed some enjoyable strategies and overall fun decks to play below. As well as some fun options for beginners and the best precons to pick up for maximum EDH fun.
Updated: 5/4/2023
Table of Contents:
What Makes a Fun Commander Deck?
People have fun playing Commander in all different ways. Some people are very competitive and find fun in winning the game as fast as possible. Others love long and drawn-out games where they can cast more cards and spend lots of time with their friends.
Still, some others like games with big momentum swings between players and politicking. There are so many ways to play the game and have fun doing it. Ultimately, a fun commander deck is one that you enjoy playing, and your opponents enjoy playing against.
Fun Commander Decks By Category
Here we'll break down some fun EDH decks into a few different categories. We'll look specifically at fun decks for a new player, the most fun commanders to play against, and finally, fun precons.
For Beginners
Just starting out playing commander can be very overwhelming. There are many choices to make and quite a few rules to remember. If you are just starting out, I would highly recommend one of the pre-constructed decks sold by Wizards of the Coast.
They usually do a fantastic job on the decks, and they make for a very fun and playable experience right out of the box. We cover some of the most fun precons here in just a second, but if you want to jump ahead, click here.
If you are a beginner and preconstructed decks are not your thing, I suggest making a single-colored deck. The mana base is one of the deck's most complex and expensive parts.
Furthermore, a poor mana base where you don't draw enough lands (or draw nothing but lands) is an easy way to make your game unfun. By sticking to one color, you eliminate some of that risk.
Here's a quick list of fun mono-colored commanders for each color that are great for those starting Magic.
| | |
| --- | --- |
| Commander | Possible Play Styles/Themes |
| Light-Paws, Emperor's Voice | Enchantments, "Tool Box", Voltron |
| Odric, Lunarch Marshal | Attacking/Aggro, Ability Sharing |
| Talrand, Sky Summoner | Spell slinging, Wizard Tribal, Tokens |
| Minn, Wily Illusionist | Card Draw, Illusion Tribal |
| Ghoulcaller Gisa | Zombie Tribal, Tokens, Creature Sacrifice (Aristocrats) |
| Mari, the Killing Quill | Rouge Tribal, Treasures |
| Torbran, Thane of Red Fell | Burn |
| Zada, Hedron Grinder | Goblin Tribal, Spellslinging |
| Ghalta, Primal Hunger | Stompy, Vehicles, Dinosaur Tribal |
| Ayula, Queen Among Bears | Bear Tribal |
If you still need a bit more insight as to how commander works or which commander might suit you best, check out this article all about commander: MTG Commander: The Ultimate Guide.
Precons
As discussed above, commander precons are created and sold directly by Wizards of the Coast. These products generally make for entertaining budget EDH decks. They are a one-time fee to get a whole commander deck. While some aren't as powerful as others, they can always be upgraded down the line. They also come with many brand-new cards and much-needed reprints – Making them an excellent product for new and old magic players.
Regarding which preconstructed decks are the most fun, I have found that the five decks below are fun to play with and against.
08/31/2023 01:46 am GMT
These are all really great and can make for some excellent commander on a budget. They also have great potential for improvement and upgrades.
To Play Against
This can be a tricky question to answer. While winning a game of commander can be fun, your opponents might find it miserable. An example would be playing against a Narset, Enlightened Master deck with only extra turn combos.
Eventually, the person playing Narsett will combo off, take a bunch of extra turns and everyone else has to pretty much just sit back and watch as this person plays a game of "solitaire" while they wait to eventually lose the game. Furthermore, any kind of stax effect (making spells cost more) or land destruction decks are a little less fun to play against to most people.
I would say commanders that incentivize action of any kind to be considered fun. This could mean commanders that get players attacking, blocking, drawing cards, casting spells, cutting deals, or making decisions. A commander that gets players playing Magic, so to speak. Some great examples of this would be:
What Are Fun Commander Themes?
There are many fun edh themes. A few examples are tribal decks, group hug, super friends, big mana, and aggro. There are countless others as well. For now, let's get right into the explanations.
Tribal
"Tribal" is a theme based on a particular creature type. For example, you could build a tribal version of Kykar, Wind's Fury that focuses on spirits since he makes 1/1 spirits. In comparison, an Edgar Markov deck would want a lot of vampires on the battlefield and make an additional 1/1 vampire whenever you cast one.
In short, a tribal deck has many synergies and interactions between creatures of a particular type. What makes this fun? Well, usually, the decks are somewhat aggressive – So you'll get to cast many creatures, have a giant board, attack, and reap the rewards of playing your favorite tribe. I personally play tribal decks in several formats, including Commander. What are some popular tribes?
Zombies
Vampires
Demons
Goblin
Merfolk
Slivers
Humans
Elves
Dragons
Knights
Angels
Wizards
Dinosaurs
Combo
Combo is a theme seen in many competitive commander decks. Most of these decks will try to assemble certain cards with specific effects to pull off the win.
For example, Sliver Queen has an infinite combo with Mana Echoes. Once a sliver enters the battlefield with Sliver Queen out, at least 2 mana can be made. With that two mana, you can use Sliver Queen to make a 1/1 sliver and the process will repeat as many times as you want. This is important to note because according to rule 725.1b regarding taking shortcuts:
"Occasionally the game gets into a state in which a set of actions could be repeated
indefinitely (thus creating a "loop"). In that case, the shortcut rules can be used to determine how many times those actions are repeated without having to actually perform them, and how the loop is broken."

Magic: The Gathering Comprehensive Rules rule 725.1b
Not all combo decks go infinite, and many different combos exist. However, they'll always revolve around a specific set of cards that usually allow you to win or very come very close to winning the game on the spot. With that said, some people don't enjoy playing against strong combo decks.
In my experience though, players are likelier to be ok with combos that do win outright as opposed to combos that take a long time to play out and could fizzle. This puts players in a position where they have to wait out the combo in hopes it fizzles when it may not or call the game when the combo player may not have the win.
My advice is to talk to your playgroup about what they are comfortable with or consider fun and play a combo that will win you the game. So, what makes the combo archetype fun? Many players enjoy finding and assembling all the puzzle pieces to be engaging. Furthermore, many combo decks can be complex and require high forethought and planning on the "combo turn."
Group Hug
Group Hug strategies are often thought of as fun to play and fun to play against. However, some are a bit more punishing than others. An example of a popular (and brutal) group hug commander is Zedruu the Greathearted.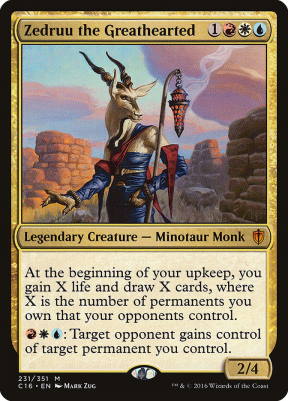 Zedruu tries to give opponents control of permanents, draw as many cards, and gain as much life as possible. With that said, Zedruu decks are often giving away cards with adverse effects on the controller, like Delusions of Mediocrity, Aggressive Mining, and Illusions of Grandeur.
So, Zedruu could fall on the less fun side of things to play against, but I have personally built the deck, and giving opponents the most repugnant cards you can imagine is pretty fun. Other group hug decks like Braids, Conjurer Adept, and Xantcha, Sleeper Agent play a little differently but are pretty fun as the pilot and opponent.
What makes these themes fun is that they push the action and get players playing. Win, lose, or draw if you get to cast spells, play lands, draw cards, attack, and/or do what your deck was designed to do – you'll usually have a good time.
Super Friends
These decks are, in my experience, very fun decks to play. They are called "super friends" due to all the planeswalkers in the deck. Planeswalkers are generally powerful, and a deck that plays many of them can have quite a lot going on. And overall, they are fun to play with.
I think some of this comes from the fact that most decks are creature based on some level, and having a board full of walkers can be a nice change of pace and play style. Pairing this with cards/commanders like Atraxa, Praetors' Voice, Carth the Lion, Oath of Teferi, and Lae'zel, Vlaakith's Champion can lead to you activating your walkers "ultimate" abilities way ahead of schedule.
As an opponent, deciding whether you should be attacking the player or their planeswalkers can also lead to some decision-making and cause players to play a bit differently than they might against another deck.
Stax
Stax decks are generally considered not fun to play against. They are focused on preventing opponents' from playing the game efficiently by destroying their lands, making them pay extra mana for spells, or otherwise impeding their ability to play the game. In my opinion, stax is at its most fun in more competitive play groups where players are trying to win as fast as possible, usually via combo.
In these more powerful pods, I think stax is more acceptable and fun. If players try to win as quickly as possible, it can be exciting to race to set up a lock or stall a combo before it's too late. It can be fun being the one to interact with everyone else's strategy. In more degenerate groups, I think most players are ok with stax. Furthermore, if you are looking for a budget-competitive deck, stax is a good option.
Big Mana
As a theme, Big Mana is precisely what you'd think. Cards that require a ton of mana to cast. This could be spells with an "X" in their cost like Fireball or just very high mana value spells like Ulamog, the Infinite Gyre. Big mana can make for a fun experience for your pod for a few reasons.
I'm sure you've caught onto the theme by now. Doing things makes for fun games, and Big Mana decks do big things. Playing extra lands, building up mana rocks, and then casting the most significant, scariest thing possible is a very pure way to play MTG. Additionally, decks like this often run smoothly since they rarely have problems getting enough mana out.
Control
Control, in my opinion, gets a bad reputation sometimes. Many people might view control as less than fun to play against because you'll often get your spells countered or creatures removed. However, I think control is fair if it can close out games promptly.
And as a pilot, control is fun because you get to interact. You have to think. Is this spell worth using my Counterspell on? Is this the right time to use Wrath of God? I find the same is true for an opponent.
I find myself trying to lure out counterspells by playing less important spells first or waiting until an opponent taps out to drop a bomb. And there's nothing better than having sensed the boardwipe and planned accordingly. Then, dumping a handful of fresh threats onto the empty board.
Top 15 Most Fun Commander Decks
Below is a list of decks/commanders that I and many others have found fun. Each can be built in several ways and at different power levels and budgets. But in general, they are all a blast to play in one way or another. With that said, the list is really in no particular order. For a great resource on ways to build any of the commanders on the list, check them out on edhrec.com. So, let's jump right in.
Esix, Fractal Bloom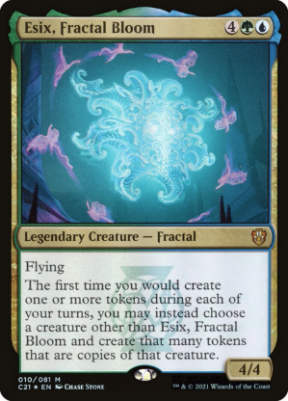 Esix is an extremely unique token commander and is really fun… And sometimes busted. The first time you create tokens on each of your turns, you can have those tokens become copies of any creature (other than Esix) instead. So, let's say you cast a Fungal Sprouting for four – Instead of making four 1/1 saporlings tokens they could be any creature on the battlefield.
There are so many easy ways to make tons of tokens in Commander that this ability gets out of hand rather quickly and is a blast to pilot, given how many cool interactions there are. One of my favorite things is using Esix's ability to clone a creature that makes tokens.
Here is an example – Say you have a Hornet Queen in play, and you create those four tokens mentioned above. If you choose to have those four tokens be copies of Hornet Queen, you'll get four queens, and each one will trigger and yield four 1/1 insects. I'll do the math for you: Four