It doesn't take much time of playing magic to notice that certain colors do things better than others. For example, why do blue cards allow you to draw cards so much better than white cards do?  Each of the 5 colors has its philosophy and principles that dictate how it interacts with the world. This concept of color identity is called the "mtg color wheel" and it plays a crucial role in deck building. This is because each color comes with its unique strengths and weaknesses.
Color is a basic property of Magic cards, and it forms the core of the game's mana system and overall strategy. There are five colors in Magic the Gathering. They are usually sequenced in the following order white, blue, black, red, and green. Certain concepts and abilities are exclusive to each color. As a result, no one color has a distinct advantage over another. The mtg color wheel keeps the colors balanced as well as lends flavor to the abilities the cards have.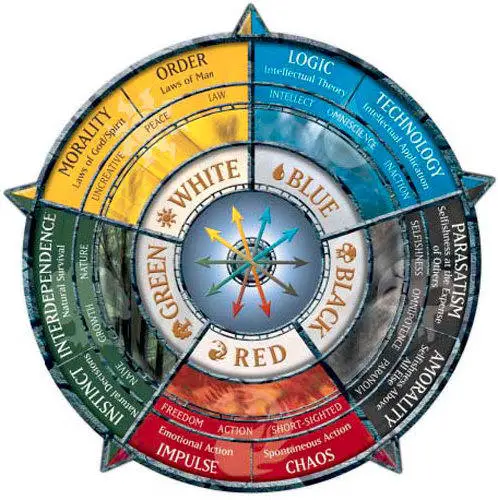 Each color on the mtg color wheel has things it can and can't do. However, certain things are considered an intrinsic part of the game. First, is card advantage, which means ways to get access to more cards. Secondly, there is removal, which are cards or effects that let you get rid of your opponent's things. So, while some colors may do these better than others all colors have access to it in their own way.
Table of Contents:
What Are The Colors In Mtg
White:
White is a color that values community, structure, and organization. The colors' ultimate goal is peace, and they think this can only be achieved by working together. They seek to achieve and uphold this peace with laws, religion, and government. While whites' goal is peace, those who threaten the structure they have laid will be met with swift justice. While white has its heart in the right place it can sometimes be guilty of being tyrannical to maintain its community. Even sometimes sacrificing the few to protect the many.
A card like Wrath of God may seem simple but I think it is a great example of white's worldview. Justice is justice and what has to be done to protect our way of life simply must be done. Endurance for the whole at almost any cost.
Small Creatures:
White has a preference for community over individualism. As an example, white creatures are usually small by themselves but fierce in numbers. What one person would struggle to do alone, is easy with teamwork being at the core of the color's ideology. This thought process can be seen in many whites creatures. For example, Hero of Bladehold, Champion of the Parish and Benalish Marshal. White creatures often have keyword abilities like vigilance, first strike, and lifelink.
Card Advantage:
White can't draw cards as well as other colors on the mtg color wheel but it can still find access to more recourses. It usually does this with a system of equality. For instance, if you have more than they do, they try and close that gap. This reflects whites' sense of community and parity as opposed to greed. This is present on Knight of the White Orchid, Timely Reinforcements and Land Tax.
Creature Removal:
White has to keep the peace and protect its citizens. The only way to keep the peace is to avoid conflict whenever possible. To do this white usually chooses to simply exile problems completely. For example, Path to Exile, Prismatic Ending and Banishing Light all exile things.
White has a particular problem with creatures attacking and blocking. So, it has the unique ability to specifically deal with those aggressive permanents. This can be seen on cards like Divine Verdict and Enduring Victory.
Artifact and Enchantment Removal:
White is not opposed to using artifacts or enchantments to keep its peace. However, it possesses the tools to dispatch such things should they be used against the greater good. A few examples include, Disenchant, Fragmentize and Austere Command.
Taxes:
White seeks to impose its worldview on other colors and players. They attempt to enforce their rules by telling others what they can and can't do. They will also "tax" players by making them pay to do things that might be done to excess. Examples include Grand Abolisher, Ghostly Prison and Smothering Tithe.
Blue:
Blue is a color that places the pursuit of knowledge above all else. It has a very curious outlook towards the world and it's very methodical in its approach to things. It believes that anything is possible if one can simply figure out how to make it happen. As a result, blue is the color most interested in technology and how best to use it. Not all colors agree with this outlook but blue see's that no knowledge is bad knowledge.
Jace, the Mind Sculptor is a quintessential card for the color blue and shows blue's interests on a card. The first 2 abilities on Jace both let you look at cards. Then, put your knowledge to some very powerful uses. It is a great in-game example of knowledge is power.
Card Advantage:
Blue seeks to expand its mind by simply drawing cards. It can gain card advantage for much cheaper than other colors on the mtg color wheel. It also likes to flex its mind power by always knowing what it has access to next. Blue can be very selective of the cards on top of its library with scrying and looting effects. This information helps to keep its well-laid plans on track. Some examples include Serum Visions, Opt and Merfolk Looter.
Removal:
Blue has a very effective way of dealing with permanents once they hit the board. Blue has a very good understanding of time. So, it can often slow opponents' plans long enough to find a permanent solution. Blue knows enough to know, that it only has to buy enough time to execute its plans. It usually seeks to do this by unsummoning things. Some examples include Vapor Snag, Echoing Truth and Whelming Wave.
RELATED: Best Blue Board Wipes
Counter Spells:
If everything goes according to plan blue will be several turns ahead of opponents. This allows blue players to play proactively. Blue takes advantage of this foresight and their fundamental understanding of magic with counterspells. With the right planning, they can perceive and stop threats before they even hit the board. Some examples are Counterspell, Negate and Force of Will.
Stealing or Copying Permanents:
Blue is a very controlling color. Being the most educated color, it believes it can make better use out of things than other colors. It is for this reason that blue will copy or simply steal things from its rivals at times. This can be seen on Clone, Twincast and Take Possesion.
Black:
Black could be described as a selfish color on the mtg color wheel. It is a color that sees the world through the lens of its self-interest. It has little concern for what others view as right or wrong. Black tends to see things only in terms of what advances its goals and what doesn't. This ambition for power oftentimes leads to very brutal tactics. Everything from taking opponents life force to dealing with demons is fair game for black.
Black uses a lot of questionable methods to achieve its goals. However, it simply believes that if they were not the ones to do it then someone else would. Dark Confidant is a prime example of black doing what it does best. Both, the card effect but the flavor text as well.
Creatures:
Black is willing to employ anyone or anything capable of getting the job done. This ranges from depraved humans and corrupted souls to vampires and devils. With that said, blacks' creatures can always be counted on to instill fear in their enemies. They often have abilities that make them hard for opponents to block them like fear, intimidate, menace and skulk. While many also have things like flying, deathtouch, and lifelink. These abilities can be found on Gifted Aetherborn, Vampire Cutthroat and Vampire Nighthawk.
Removal:
Blacks' willingness to dispatch anyone in its way means that it has some great creature removal. The color also values its resources, so these spells are cheap and effective. Examples of this are Toxic Deluge, Murderous Cut and Hero's Downfall. Black also has a unique way of getting rid of things by making their controller sacrifice them. Cards like Diabolic Edict, Chainer's Edict and Cruel Edict.
Card Advantage:
Black views life as a resource. As a result, it is more than happy to use it to pay for things that further its agenda. Black is more than happy to lower its life total if it means it lowers yours in the process. This is reflected in-game with cards like Dark Confidant, Necropotence, K'rrik, Son of Yawgmoth and of course Demonic Tutor.
RELATED: Best Black Tutors
Resource Denial:
Black knows that an enemy without resources is a weakened enemy. So, stripping opponents of the things that they need is a common theme for the color. Often achieving this utilizing mental warfare and pestilence. This can be seen on Inquisition of Kozilek, Thoughtseize and Wrenchmind. As well as Corrupted Roots and Smallpox.
Drain and Gain:
This is at the core of blacks' worldview. It believes that it can put your valuables to better use than you can. So, it adopts a very "take from you and give to myself" attitude. Some examples of this are Waste Not, Exsanguinate and Consume Spirit.
Reanimation:
Sometimes, creatures are far too valuable to let them stay dead. With that said, black has no problem reanimating an asset time after time until it has fully served its purpose. Black is really the only color on the mtg color wheel that can do this. This can be found on cards like Reanimate, Animate Dead, and Goryo's Vengeance.
Red:
Red is a color that values freedom and following your heart without much concern for the future. It is a very emotional and impulsive color. Thus, it is a color that quickly and simply gets things done without worrying about the consequences. In other words, creatures and spells in red have a very live fast, die fast outlook towards life. This "do now, think later" approach can lead to some very high-risk, high reward situations for red players. So, let's look at how this worldview affects the way red cards play magic.
Red's philosophy and passion for what it wants to do, manifest in-game in many ways. With that said, I think Gamble is the perfect card to show first, as it perfectly encompasses red as a whole. For just one red mana you get to tutor for whatever you may need most. It goes straight to your hand; you don't even need to reveal it. But then you have to discard a card at random. So, you stand to discard the card that you just tutored for.
This "I need it now and I will try to get it, no matter the cost" is red magic at its core. It is in most of Red's mechanics in some form or another. Let's take a look at them more in-depth.
Aggressive Creatures:
Red creatures are usually low-costed and aggressive. Oftentimes, having high power and low toughness that allows them to do lots of damage while likely killing themselves in the process. Oftentimes, using keyword abilities like trample and haste to blitz and overwhelm their opposition. Creatures like Ball Lightning and Vexing Devil are a good example of this.
Removal:
Red prefers to deal with threats in a very direct way. This brute force approach works well because many of these "burn" spells can also target players. Furthermore, they don't use the word "destroy" so they can kill indestructible creatures. As a result, they are very versatile, and spells like Lightning Bolt are some of reds' greatest assets. Additionally, the color also has access to many powerful board wipes like Blasphemous Act and Anger of the Gods.
RELATED: Best Red Board Wipes
Card Advantage:
In more recent sets red has gained several ways to refill its hand with cards. Including, Light up the Stage, Chandra, Torch of Defiance and Ragavan, Nimble Pilferer. While keeping red on par with the rest of the mtg color wheel it is done in a fashion consistent with red. It can yield you amazing results or things you can't cast at all. It is also very here and now, as you lose access to them after a turn.
Chance:
There are several cards in red that fully embrace the randomness of wearing your heart on your sleeve. Again, this creates a high-risk, high reward situation. These includes cards like Final Fortune, Mana Clash and Gamble.
Short Term Mana:
Red has a very spontaneous approach to mana ramp. Oftentimes, going all-in on one big turn with a burst of mana instead of steadier ramp. This "in the moment" style is present on cards like Desperate Ritual, Pyretic Ritual and Irencrag Feat.
Land and Artifact Destruction:
Red has lots of options to remove artifacts as well as destroy opposing lands. Cards like Shattering Spree and Abrade are great for removing artifacts. While, Stone Rain and Cleansing Wildfire can get rid of lands. Pillage and Aftershock can even hit both.
Green:
Green is the color of nature and independence. It is a very instinctual color. It derives most of its worldview from the idea of natural order. This manifests in things like growth of its creatures and mana and dislike of the unnatural. Green seeks to coexist with all others peacefully but when threatened can harness the immense power of mother earth. It can use this power for both offense and defense.
As an example, green creatures can have death touch and/or infect that makes them potent attackers. Additionally, abilities like regeneration or hexproof that make them hard to remove. Greens' affinity for nature manifests in the game with powerful creatures at all mana values. As well as cards that destroy things that do not occur in nature. Primeval Titan is a good example of greens worldview on an mtg card.
Powerful Creatures:
Some of the most fearsome beasts that nature has to offer are in green. Green has creatures that are naturally very powerful. As a result, they often have very high power and toughness for their mana value compared to other colors. Good examples of this are Steel Leaf Champion, Questing Beast and Gigantosaurus.
Card Advantage:
Green does have the ability to straight-up draw cards. However, it is usually dependent on playing creatures to be able to do so. These types of effects can be seen on cards like Harmonize, Beast Whisperer and Glimpse of Nature.
Green also can churn through the top cards of its library looking for resources and threats. This is greens' own unique way of reaping the benefits of following their primal instincts. This type of card effects can be seen on cards such as Collected Company, Genisis Hydra and Oath of Nissa.
Removal:
Oftentimes, green has bigger creatures at any given mana value than their opponents. Green is confident that their creatures will be the biggest on the board at any given time. This is reflected in the way they choose to deal with opposing creatures. By simply pitting them head-to-head with fight spells. This includes things like Prey Upon, Ancient Animus and Setessan Tactics.
Green can also easily remove creatures with flying using spells like Hurricane, Broken Wings and Plummet.
Mana Ramp And Mana Fixing:
Green is very in touch with nature and is a color of growth. As a result, it can easily produce excess mana. Green attempts to simply coexist with all other colors. So, not only can it make green mana but mana of all other colors as well. These abilities can be seen on Llanowar Elves, Birds Of Paradise, Overgrowth and Search for Tomorow.
RELATED: Best Green Mana Ramp
Artifact And Enchantment Destruction:
Given its worldview green despises anything that seeks to unnaturally modify the world. This includes strange artifacts and things that enchant the world around them. Consequently, green has a plethora of ways to destroy them. Some examples include, Naturalize, Wilt and Return to Nature.
Key Traits Of Each Color
White
Peace
Law
Structure
Selflessness
Equality
Blue
Knowledge
Deceit
Caution
Deliberation
Perfection
Black
Power
Self-Interest
Death
Sacrifice
Uninhibitedness
Red
Freedom
Emotion
Action
Impulse
Destruction
Green
Instinct
Nature
Wildlife
Connection
Tradition
How Many Color Combinations Are In Mtg?
There are a total of twenty-one unique color combinations that can be made using the five primary colors of the mtg color wheel. There are 10 two color combinations. Then, there are 10 three color combinations. Lastly, and the 21st is to use all five colors.
Two Color Combinations
Each of the five primary colors on the mtg color wheel can be combined. Meaning players can form two, three, and even four color combinations. There are a total of 10 two color combinations that can be built. Of these 10, five color pairs have similar ideas and these are called allied pairs. Additionally, five color pairs have opposing worldviews. These are enemy color pairs.
Three Color Combinations
There are also a total of 10 three color combinations that can be built. These too are paired with allied and enemy colors from the mtg color wheel. The color in the middle is paired with its ally colors or its enemy colors. The ally trilogies are known as "arcs" while the enemy trilogies are called "wedges".
What Are All The Two Color Combinations In Mtg?
As mentioned above, there's 10 two color combinations to be made from the primary colors on the mtg color wheel. Five of them have ideologies that can work together and they are known as allied combinations. While the other five have conflicting worldviews and are known as enemy combinations. The allied color pairs are:
Blue/White (Azorius Senate)
Blue/Black (House Dimir)
Black/Red (Cult of Rakdos)
Red/Green (Gruul Clans)
White/Green (Selesnya Conclave)
The enemy color pairs are:
Black/White (Orzhov Syndicate)
Blue/Red (Izzet League)
Black/Green (Golgari Swarm) 
White/Red (Boros Legion)
Blue/Green (Simic Combine)
Let's take a look at what each two-color combination has to offer and what they're all about.
Blue/White or The Azorius Senate
The azorius senate is the government of Ravnica and creates Ravnican laws. It makes sense that white and blue would come together to impose laws against the other guilds. They have overlapping interests, in the fact that they both love control. White's rule comes from a place of peacekeeping, while blues comes from a need for perfection.
In-game, azorious decks are usually very controlling and disruptive. Both colors have a lot of cards that can stop opponents' plans. This combination has access to whites' ability to swarm with small creatures. While the protection of blue backs them up. Another strong suit of this combination is that blue makes up for white's lack of ability to draw cards. As a result, if these decks establish a board, they are very hard to stop.

Examples:
Blue/Black or House Dimir
House Dimir is a guild of secrecy, manipulation, and underhanded deals. They are a shadowy group that operates behind the scenes. The group employs espionage, burglary, counter-intelligence, and assassination to pull strings from the shadows. They combine blacks' ruthless ambition with blues cunning and secrecy.
Dimir decks are usually oppressive decks. They have all the control elements of blue with all the destruction of black. Dimir decks slow their opponents to a crawl while furthering their plan in the process. Often leaving opponents with little resources to stop their impending demise.

Examples:
Black/Red or Cult of Rakdos
The cult of Rakdos is a guild that likes to do what it wants to do. No matter how depraved the desire may be. They place a premium on personal pleasure, even if it is at the expense of others. Some members even intentionally inflict pain on those around them. The Rakdos have their hands in everything. From the entertainment and food industries to assassinations.
Rakdos decks feature two of the most removal heavy colors on the mtg color wheel. This removal paired with the aggression of red can be very hard to deal with. Furthermore, Rakdos also has plenty of opportunities to get ahead of the curve by doing risky plays or paying with its own life.

Examples:
Red/Green or Gruul Clans
Gruul Clans are a wild but noble clan. Their purpose was to maintain the wilds and keep civilization from overrunning nature. However, civilization and the other guilds disregarded them and encroached on nature. This caused Gruul to lose any sort of real leadership. This pitted them against civilization as a whole which resulted in them giving in to their basic instincts and they started to cause chaos whenever possible.
Gruul decks have some of the strongest creatures the game has to offer. You can expect a lot of aggression and raw power from them. Furthermore, they are the two colors on the mtg color wheel that have the best ramp. As a result, they can get out their higher cost threats earlier than expected allowing them to put out threats early and often.

Examples:
White/Green or the Selesnya Conclave
The Selesnya Conclave is a decentralized guild that strives for truth, balance, and nature. It involves itself in the government to work for peace and unity. While it has good intentions some people feel the guild is tyrannical and closed-minded. However, the guild itself maintains that it has the best interest of humanity as a whole in mind.
Green/White both have a strong sense of community in their colors. Therefore, decks in these colors often "go wide" by building up an army of small threats. Then, give a massive pump to all their creatures at once to swing for lethal. Or simply pile counters onto their tokens until even the smallest of the bunch is huge.

Examples:
Black/White or the Orzhov Syndicate
The Orzhov Syndicate is a business guild overall. They front as a religious organization, however, the only thing they worship is power and wealth. The structure of white and the ruthless self-interest of black is a very effective combination for business. As a result, nearly all guilds pay to the Orzhov, whether they know it or not.
Black/White decks have a few things they can do well. First, they have the strongest removal of any combination on the mtg color wheel. Furthermore, these colors can also be very taxing and can deny other players almost all the things they need. Orzhov can also quickly siphon large amounts of opponents' life totals for themselves.

Examples:
Blue/Red or the Izzet League
The Izzet are a guild of reckless engineering. They are responsible for inventing many useful things. Including the water and sewer systems and roadways. However, their creativity knows no bounds. So, they have been known to conduct insane experiments in the search for the next best thing. This ambition has yielded many amazing inventions as well as many catastrophes.
Blue/Red decks usually love to play spells. Often playing as many as possible per turn or copying powerful instants or sorceries multiple times. They have access to lots of creatures that benefit from this spell casting in some way. So, when left unchecked these decks can amass value out of nowhere with all of their spells.
RELATED: MTG Commander: The Ultimate Guide

Examples:
Black/Green or the Golgari Swarm
The Golgari Swarm is the epitome of life and death. Furthermore, the swarm views both life and death as natural. To them, life and death are simply an endless cycle. Growth is not just something that happens in life as far as the swarm is concerned. In their eyes, everything has as much value in death as it does in life. Thanks to the group's necromancers, most of its members continue to serve the guild after death.
Golgari decks have lots of graveyard synergy. They use this to their advantage in several ways. Including reanimating huge creatures and cheating creatures out from the grave and onto the battlefield. They can also cast creatures over and over again. Creating massive undead armies that can be hard to deal with.

Examples:
White/Red or the Boros Legion
The Legion functions as the army that enforces the laws created by the Azorius Senate. They do this with the gusto of red and the righteousness of white. This balances out each color and leaves them in a great spot to uphold the law. The Boros Legion is known to use many fire spells.
Boros decks are capable of a few different strategies. They can produce an army of knights and soldiers that can all pump one other. Then can easily use this army to overwhelm an opponent with only a few creatures. Furthermore, this color combination can burn opponents out quickly while padding their life total. They can accomplish this quickly with reds aggro and white protection.

Examples:
Blue/Green or the Simic Combine
The Simic Combine is the shepherd of nature and the wild. its mission is to both protect and expand nature. The guild uses magic and science to enhance existing creatures. Furthermore, they morph creatures together to create new species. These experiments have been known to yield creations that have become part of the ecosystem.
Simic decks can play great in both long and short games putting them in a great spot to play a midrange style. These decks have access to solid threats at low mana value through green. They also have the control elements to tempo out opponents often leaving opponents turns behind as they slowly transform an early play into a late-game threat.

Examples:
What Are All Of The Three Color Combinations?
Unlike the two-color pairs, the three color "arcs" are places and the "wedges" are clans. These planes contain all colors of mana present with the combination. The three-color combinations are also paired with allied and enemy colors from the mtg color wheel. The color in the middle is primary and is paired with its ally colors or its enemy colors. The ally trilogies are known as "arcs" while the enemy trilogies are called wedges. The allied or "arc" combinations are:
Green/White/Blue is called Bant
White/Blue/Black is known as Esper
Blue/Black/Red is called Grixis
Black/Red/Green is known as Jund
Red/Green/White is called Naya
The enemy or "wedge" combinations have the middle color paired with its two enemy colors. They are:
White/Black/Green which is called Abzan House
Blue/Red/White which is known as the Jeskai Way
Black/Green/Blue which is called the Sultai Brood
Red/White/Black which is called the Mardu Horde
Green/Blue/Red which is known as the Temur Frontier 
Let's look at what each has to offer.
Green/White/Blue or Bant
Bant is a land of law, justice, and community. Tradition thrives here, protected by multitudes of knights, angels, and warriors. They value community and place the good of the many over the good of the few. Without conflicting ideologies or schools of thought, bant's way of life has prospered for a very long time.
Examples:
White/Black/Blue or Esper
Esper is a world where sophistication and meticulousness have triumphed over the chaotic. Without the input of red and green, esper is much more in touch with the supernatural than nature. The inhabitants use this to improve nearly every aspect of their lives. Esper is a place draped in ancient magic and high-class order.
Examples:
Blue/Black/Red or Grixis
One of the more popular on the mtg color wheel, Grixis is a dark land of death, hatred, and bleakness.  It is overrun by demons, zombies, necromancers, and other forms of macabre beings. Due to the dominance of the undead here, it is even possible to find undead versions of being from other planes. The beings on Grixis that still live have a life-force known as Vis. It is a gas-like material that powers the creatures and magic on Grixis.
Examples:
Black/Red/Green or Jund
Jund is a harsh land. A place where all living creatures live beneath the dragons that inhabit Jund. The land itself is filled with sharp mountains, sulfurous swamps, and deadly forests. The air is thick with smog from the planes' many volcanoes and serves to camouflage the creatures of the land.
Examples:
Red/Green/White or Naya
Life, instinct, tribesmanship, and nature are what prosper on Naya. Given the lack of black or blue mana life and nature excel. While Naya is a lush and vibrant paradise it also has its dangers. Massive beasts inhabit and freely roam the land. Some of these creatures are so large that they easily destroy much of the land around them. With that said, the human inhabitants of the plane don't seem to mind these behemoths.
Examples:
White/Black/Green or Abzan House
The Abzan clan model themselves after ancient dragons. Especially the aspect of endurance. 
They are strong warriors that fight and live in tight groups. The warriors are known to be adorned in dragon-like scaly armor. They pride themselves on their ability to survive the harsh desert of the lands. The clan regards themselves as noble protectors of nearby clans as well as the trade routes.
Examples:
Blue/Red/White or Jeskai Way
The Jeskai Way is a clan of martial artists, mystics, and monks. The clan chooses to use strategy instead of strength. Oftentimes, using extensive planning and spiritual training to win battles against enemies. They live and train in temples and monasteries in the mountain tops. Driven by their mystical schools of thought they believe that they alone understand the nature of reality as it truly is.
Examples:
Black/Green/Blue or Sultai Brood
The Sultai Brood is a harsh and merciless clan that dwells in dilapidated palaces in jungles. They employ whatever means needed to advance their schemes. The main method by which they attempt to dominate other clans is necromancy. While they are conquerors, they are also the only protection from the monstrosities that emerge from the nearby swamps.
Examples:
Red/White/Black or Mardu Horde
The Mardu Horde are fearsome warriors. They love nothing more than the thrill of battle. The clan thrives amongst the unforgiving mountains where they camp. They emerge from the mountains to launch merciless raids against the other clans. Oftentimes using lightning magic and archery to defeat their enemies.
Examples:
Green/Blue/Red or Temur Frontier
The Temur is a sturdy, rough group that survives in extreme arctic environments. They create many of their dwellings out of the remains of dragons. Living a life of savagery, the Temur often fight as wild animals would. This reflects their "do anything to survive" outlook.
Examples:
End Step
Most people have a favorite color or two that they tend to play most. However, there is nothing wrong with that. In fact, I think it's great that people can find things they feel connected to in a particular color. With that said, maybe some card listed here will spark interest in a color combination you've never used. Or, you'll have a better understanding of what each color does when building your next deck. Either way, get out there and play some games with whatever color you fancy best now that know all there is to know about the mtg color wheel.