Magic: The Gathering has tons of different and unique abilities featured on its nearly 23,000 cards. Some are pretty easy to understand and others are quite complex. Today we dive into the mechanic, deathtouch. Which is very simple at its base, but when paired with certain variables, can become very complicated. If you've got questions about deathtouch, you're in the right place. Let's start with what it is.
Deathtouch is a static ability that says "Any amount of damage this deals to a creature is enough to destroy it." Usually, a creature needs to be dealt damage equal to or greater than its toughness to be destroyed. However, if a creature has deathtouch, any amount of damage it deals to another creature will be enough to destroy it.
As mentioned above, the basics are pretty straightforward. However, when paired with other abilities that affect how creatures deal or receive damage it can get complicated quickly. We have you covered though. We will cover how the mechanic works with things like indestructible, first strike, and planeswalkers. As well as, some of the best cards with the ability.
Table Of Contents:
What Is Deathtouch?
Deathtouch is a static ability that allows creatures or spells with the ability to deal lethal damage to creatures, regardless of the amount of damage dealt or the other creature's toughness.
How Does It Work?
It works by making any amount of damage dealt by a source with deathtouch lethal. Usually, a creature needs to be dealt damage equal to or greater than its toughness, in a single turn to be destroyed. However, as mentioned, any amount of damage from a source with deathtouch will be enough to destroy the damaged creature regardless of the creature's toughness.
Here's an example. Let's say an attacking Goblin Guide is blocked by Tetsuko Umezawa, Fugitive. Both deal damage equal to their power to the other's toughness and neither creature dies.
Now let's put Gifted Aetherborn in place of Goblin Guide in the exact same scenario. Despite both attacking creatures having the same power, Gifted Aetherborn having deathtouch means the two damage it would deal would be enough to destroy the blocking Tetsuko Umezawa, Fugitive even though it has three toughness.
Frequently Asked Questions
Will Deathtouch Kill Indestructible?
Deathtouch does not destroy indestructible creatures. Let's look at the official wording for Indestructible to see why. It says:
"Lethal damage and effects that say 'destroy' don't destroy it. If its toughness is 0 or less, it's still put into its owner's graveyard."

Magic: The Gathering rule 702.12
So, while the damage is still considered lethal, indestructible creatures aren't killed even when they receive a lethal amount of damage. Therefore, indestructible creatures will survive damage dealt to them by sources with deathtouch.
Does Deathtouch Work With Zero Power?
This is a common case where things get a little weird. The answer to this common question is, no. Creatures with zero power or who have had their power reduced to zero prior to damage calculation do not deal damage, even if they have deathtouch.
A ruling on creatures with zero power is as follows:
If a source would deal 0 damage, it does not deal damage at all.

Magic: The Gathering rule 119.8.
Furthermore, there is also a specific ruling applying to creatures with deathtouch as well. Notice the "nonzero" clause.
Any nonzero amount of combat damage assigned to a creature by a source with deathtouch is considered to be lethal damage, regardless of that creature's toughness.

Magic: The Gathering rule 702.2b
Does Deathtouch Only Work With Combat Damage?
This is a very good question and the answer is no. Any amount of damage dealt by a source with deathtouch is considered lethal even if the damage isn't from combat. This means there are all sorts of cool ways to use this in gameplay.
For example, the ability works great with cards like Viridian Longbow and Pit Fight. While abilities like the one on Walking Ballista can quickly decimate an opponent's board.
How Does Deathtouch Work With First Strike?
This is probably the most common question to come up in regard to how deathtouch works and it's one of the more complex ones to answer. First, let's take a look at how first strike affects the combat damage step.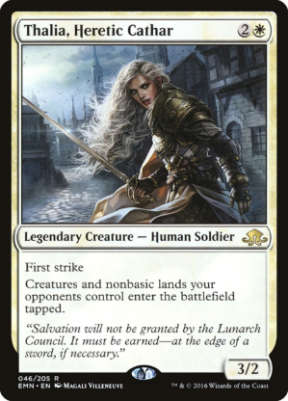 Usually, creatures deal damage to each other simultaneously. First strike allows the creature to deal its combat damage before other creatures do. A simple way to think about first strike is that creatures with first strike get to throw the first punch and land a hit without being hit back.
If first strike damage is enough to kill the creature, it will die before it has the chance to deal any damage. Therefore, the first strike creature will survive.
Related: MTG Blocking: How It Works
However, if the creature survives the first strike damage, combat moves to the regular damage phase and any damage dealt to the first strike creature that would be lethal is.
If a creature were to have both first strike and deathtouch it would deal lethal damage to any creature damaged in the first strike or regular damage phase.
How Does Hexproof And Shroud Work Against Deathtouch?
This is another source of confusion for players.. Hexproof and Shroud are both abilities that make the creature unable to be the target of spells or abilities.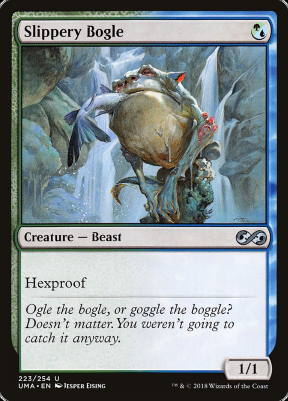 Since deathtouch doesn't target creatures, neither hexproof nor shroud has any effect on it. Creatures with hexproof or shroud will still be destroyed if a creature with deathtouch damages them.
Does Deathtouch Work On Planeswalkers?
No, it only affects creatures. Since Planeswalkers are not creatures, they take damage like they normally do. For example, an unblocked Vampire of the Dire Moon would only remove one loyalty counter from a planeswalker it deals damage to.
Related: MTG Planeswalkers: An Ultimate Guide
With that said, there are some exceptions to this. For example, if a planeswalker were to become a creature with an ability like that of Sarkhan the Masterless it could then be killed with deathtouch. The same applies to a planeswalker equipped with Luxior, Giada's Gift.
Furthermore, Hooded Blightfang, Vraska, Swarm's Eminence, and Zagras, Thief of Heartbeats all say something to the effect of "Whenever a creature you control deals combat damage to a planeswalker, destroy that planeswalker." which would be the equivalent of "Planeswalker Deathtouch" even though those words aren't used.
How Does Deathtouch Work With Trample?
Trample is one of the best mechanics to pair with Deathtouch. To understand why let's start with a look at the reminder text for Trample. It says:
This creature can deal excess combat damage to a player or planeswalker it's attacking.

mtg.fandom.com
So, once a creature with Trample deals lethal damage to a creature blocking it, all the leftover damage goes to the player or planeswalker that was being attacked. For example, say an attacking Jewel Thief is blocked by Vampire Lacerator.
Jewel Thief deals two damage to Vampire Lacerator, killing it. Then the remaining one damage continues on to the attack target. With Deathtouch and Trample, the first point of damage is lethal therefore whatever is left goes through to the target. First, let's look at the ruling for the two mechanics together, and then I'll show an example.
If a creature with both Deathtouch and Trample is blocked by one or more creatures, assigning 1 damage each to the blockers (and the rest to the initial target, being player or Planeswalker, regardless of their toughness or previous damage), is considered a legal way to assign the damage. However, if the attacking player desires, the attacking player may distribute excess damage any other way they see fit.

mtg.fandom.com
Here's an example of how this interaction works. Let's say you cast Larger Than Life targeting your Gifted Aetherborn. You now have a six-power attacker with Trample and Deathtouch. Let's say it is blocked by Arashin Sovereign which has six toughness. Usually, there would be no excess damage here.
However, thanks to Deathtouch, the first one damage dealt by the attacking Gifted Aetherborn is lethal and the remaining five unassigned damage will go through to the intended target.
How To Beat It?
There are a couple of ways to come out on top if you're facing down lots of opposing creatures with Deathtouch. I'll break down a few good methods below and some good cards in each category.
Interaction/Removal
Playing adequate removal or interaction to handle opposing threats is perhaps the most solid answer. Not only will this give you answers to creatures with Deathtouch but other threats as well.
Cards in this category can be anything from creature removal like Murder and Fatal Push to counterspells like Cancel and Essence Scatter. Furthermore, cards that exile creatures such as Path to Exile and Swords to Plowshares are great options as well.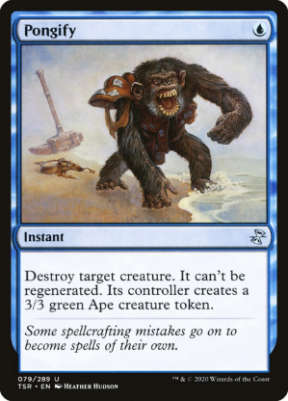 The same is true of bounce spells like Cyclonic Rift and burn spells like Lightning Bolt. The one exception to this would be removal in mono-green such as Ancient Animus or Prey Upon which don't work well since each creature deals damage to the other.
Aside from Beast Within, if you're looking for answers in mono-green I recommend playing indestructible creatures or cards that grant indestructible. Another option is cards such as Fog or Spore Frog if they are viable for your strategy. If not, consider dipping into another color for some of the removal mentioned above.
If the ability is coming from things like Basilisk Collar or Aspect of Gorgon, I would suggest using cards such as Fragmintize (my personal favorite), Wear // Tear or Krosan Grip. However, if you're in mono-black, artifacts and enchantments can be a bit harder to answer.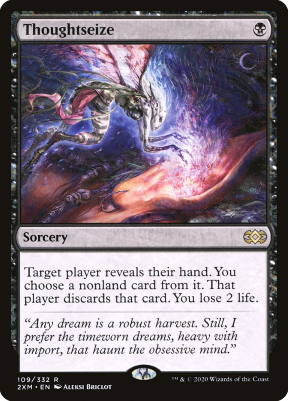 As someone who plays a lot of mono-black, I think hand disruption is the easiest, most effective way to answer more specific non-creature threats. If you find yourself looking for hand disruption you can't go wrong with Thoughtseize, Inquisition of Kozilek, or Duress.
First Strike
If you're already playing general interaction and are looking for more specific answers, consider playing creatures with first strike whenever possible. It can do wonders in combating lethal opposing creatures. However, your first strike creatures have to have enough power to take the opposing creature out in the first strike combat step.
You'll also probably want to try and find some overlap with your strategy. For example, playing Thalia, Guardian of Thraben for the first strike wouldn't be worth it if you're playing tons of non-creature spells as well.
An example of good overlap would be putting Drana, Liberator of Malakir into your Vampire deck, or adding Gisela, the Broken Blade to an Angel deck. If particular creatures don't fit well I'd consider enchantments or equipment that grant the ability.
To find cards from any of the categories mentioned above that may fit your deck style try the advanced search options on gather.wizards or scryfall.com.
Deck Lists
Let's take a look at a few decks built around the mechanic.
Modern Golgari Fangs
Mainboard Spells
The deck is built around (and named after) Hooded Blightfang and Fynn, the Fangbearer, and their synergies with the mechanic. These are the deck's main payoffs and win-cons for the deck, aside from just combat damage. Every creature in the deck (including themselves) can trigger either one of these creatures.
The deck wants to get as many triggers as possible from Hooded Blightfang and Fynn, the Fangbearer so the deck plays quite a few one-drop creatures with the plan of going somewhat wide. With that said, I found that too many one-and-two drops were leading to bad top-decks later in the game.
So, the deck does have some cards higher up on the curve. There is a 3/2 split between Questing Beast and Vraska, Swarm's Eminence. Curving out with a one-mana creature on turn one, followed by Fynn, the Fangbearer, on turn two then a creature on turns three and four means the deck can win via poison counters as early as turn four.
The majority of the cards in the deck are creatures but not all. Thanks to Foulmire Knight // Profane Insight the deck has access to a bit of card draw stapled to a creature I'd want to play anyways and I have been very impressed with it.
Next, we have three copies of Abrupt Decay and copies of Eliminate for removal. Both spells are efficiently costed and capable of answering a variety of threats. Things like Wrenn and Six, Liliana of the Veil, and Ensraring Bridge come to mind.
Lastly, four mainboard Inquisition of Kozilek gives the deck a bit of disruption and the ability to answer problematic spells before they are even cast. Almost anytime I play black, I play hand disruption. If Inquisition isn't good in your particular meta, consider switching it out for Thoughtseize.
Mana Base
Now let's go over the notable tech lands. First, we have Urborg, Tomb of Yawgmoth to provide a bit of mana-fixing since there are 12 spells with a double-colored mana cost. Next, is a single Takenuma, Abandoned Mire and Boseiju, Who Endures for their channel effects. It's worth mentioning that there are six Legendary creatures mainboard that help out with the channel costs.
Getting back a Questing Beast or Fynn, the Fangbearer with Takenuma, Abandoned Mire[/c] is something I've found to be particularly back-breaking.
Moving on, we have a single copy of Nurturing Peatland to be able to draw an extra card if the deck happens to get mana-flooded. And lastly, I play two Hissing Quagmire for obvious reasons and having a mainland capable of triggering both Hooded Blightfang and Fynn, the Fangbearer has helped the deck more than I would have ever imagined.
Sideboard
The sideboard will also vary depending on your meta but here's a brief rundown of mine.
Tormod's Crypt, Ashiok, Dream Render, and Cling to Dust are all graveyard hate. But Ashiok also shuts down Primeval Titan decks from tutoring lands or using Summoner's Pack. Veil of Summer comes in for interactive matchups playing counterspells or black-based removal.
Damping Sphere is primarily in the board to stop decks that want to cast multiple cards each turn such as Prowess or Storm. However, it also does an amazing job of stopping land-based strategies like Tron or Amulet Titan. Damping Sphere is in almost every sideboard I build. Great card.
Last but not least I added three copies of Naturalize to deal with problematic artifacts and enchantments. There are a lot of cards that could go into this slot but I choose to keep it sweet and simple.
Pioneer Version
Here's a Pioneer list for the same deck, if you're interested in transitioning it to that format. I've covered pretty thoroughly what the deck wants to do and how it does it. And all that is the same for this list. So, what is different?
The only changes from the Modern list are swapping Inquisition of Kozilek for Agonizing Remorse, changing the Verdant Catacombs to Darkbore Pathway, removing the Nurturing Peatland, and changing the sideboard.
Sideboard
Many of the sideboard choices are the same as the Modern version as well. However, there are a few key differences. Hero's Downfal is to handle some of the higher CMC threats in Pioneer. And Pithing Needle puts the breaks on several of the formats most played cards.
There are also several viable strategies in Commander. Here is a small list of good commanders for the archetype.
You can find all the most player commanders and cards at EDHREC if you're interested in more info.
Top 5 Best Deathtouch Creatures
We've covered just about all there is to cover about the ability and how it works. So, what better way to end the article than with a Top 5 list of the best creatures with the ability? Let's take a look at the very best creatures with the ability out of the 278 in print.
5. Hissing Quagmire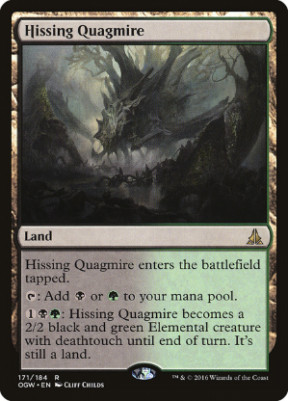 This isn't the flashiest inclusion on the list. However, manlands can be quite strong in two and three-color decks where they fix mana early and become threats later in the game. A 2/2 body isn't the most intimidating thing in the world but it a great blocker. Furthermore, only being a creature until the end of the turn it's activated means it dodges sorcery speed removal.
4. Hornet Queen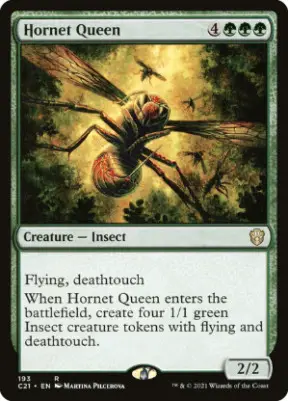 While seven mana is quite a lot, Hornet Queen is often in decks where she comes out ahead of the curve. Regardless of what turn it is, the enter the battlefield trigger here is massive. Four 1/1 tokens with both deathtouch and flying can be hard to deal with defensively, as well as stop aggro/creature decks in their tracks.
3. Baleful Strix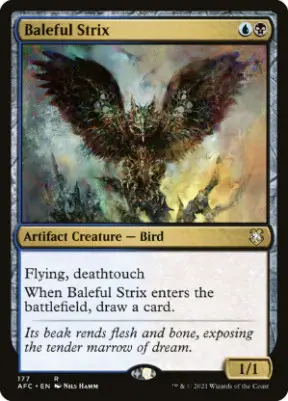 What isn't to like about Bafeful Strix? For two mana you get an evasive creature with deathtouch, that is also a cantrip. The fact that it generates immediate value by drawing a card means that you can freely block and trade with opposing creatures later in the game, effectively giving you a two-for-one. This ability to generate value in addition to being an all-around solid creature earns it a high-ranking spot here.
2. Wurmcoil Engine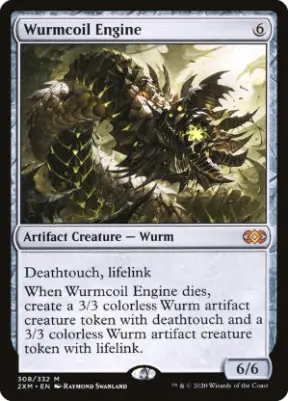 Like Baleful Strix, Wurmcoil Engine is great at generating two-for-one situations. Whenever it dies it splits off into two tokens, each having half the stats original card. So, if Wurmcoil can't be answered with some sort of exile effect like Path to Exile it will most likely require several cards to neutralize. With that said, thanks to the large body and lifelink if left unchecked it can easily dominate boards and takeover games.
1. Questing Beast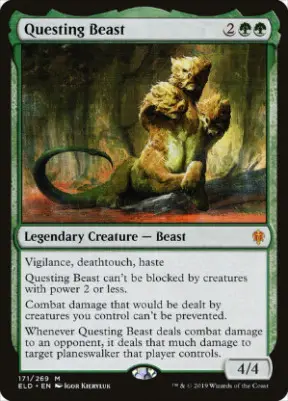 Questing Beast is a force to reckon with for its combination of abilities. Having haste means it can immediately swing for four damage and either connect or kill whatever has to block it. Furthermore, the fact that creatures with power two or less can't block it means it often takes out the opponent's bigger threats if they want to block.
The fact that vigilance is also present means that even after attacking it remains untapped to be a blocker as well. Again, meaning that it will at least trade with most things. All this is in addition to having great stats, making damage unpreventable, and being great against planeswalkers. Questing Beast is all around very hard to deal with and come out on top.
End Step
Deathtouch is a core mechanic of Magic: The Gathering and is one of the first I remember playing with. It is an ability that is quite simple all alone but has very complex interactions with other abilities within the game. Overall, love it or hate it, it's here to stay. So I'm glad you came by to better understand the ins & outs of it a little better.