There are tons of deck boxes out on the market. Like most products, some are okay, some are bad, and some are great. With that said, what makes a box great will depend on your needs. For example, the best box for a double-sleeved commander deck will probably differ from the best box for a smaller standard deck. Let's take a look at the absolute best deck boxes for EDH and modern or standard plus some specialty boxes, for those with a taste for the unique.
Here are my top picks for a few different categories.
Description:

Holds 100+ double-sleeved cards, secure lid, highly protective, affordable

Description:

Holds 75 double-sleeved cards + tokens, compact, easy to use design, durable

Description:

Budget-friendly, great for storing cheaper decks, highly available, compact 

Description:

Holds up to 1000 unsleeved cards, holds up to five 100-card deck boxes, and comes with velcro dividers and a shoulder & wrist strap for easy carrying.

Description:

Flashy, highly functional and unique, many are modeled after mtg art or relics
01/26/2023 09:20 am GMT
The products mentioned above are top-notch products that you can trust your deck with. However, no product is perfect for everyone and there are still a few things to take into consideration. For instance, do you want a dice tray? Are you in need of a compact option or a budget option for limited decks? Let's take an in-depth look at the products mentioned above and their pros and cons. As well as a few honorable mentions.
What Makes a Good Deck Box?
This is a very important question to ask when considering which product to buy. Some d are strictly better than others. However, the answer to this question will depend on your needs as a player. With that said, there are a few qualities that all players will want their boxes to have.
The first is that it is well-made and capable of protecting the cards inside of it. Secondly, the box is designed in a way that makes it easy to use. Last but not least, is that it is competitively priced for its quality. Let's take a look at these three key factors in detail. In addition to some smaller things that make a great product
Related: The Best Card Sleeves For Mtg And Pokemon Cards
Is It Highly Protective?
High-quality deck boxes will sturdy. I look for a hard-shell exterior that won't bend or bow the cards within even if I apply some force from the outside. Cheaper ones are often made from soft plastic that will easily give way under pressure.
An equally important thing to take note of is the quality of the clasp or lid. Regardless of how tough the exterior is, cards risk damage if they come out at an unwanted time. In my experience, some lower-end options will come open if they turn upside down in a backpack for example.
Furthermore, cheap magnetized lids can come off simply by holding the box by the top. A good box will have a strong seal or lid that won't open accidentally.
Is It Easy To Use?
This refers to things that don't necessarily make a box poor quality but make it inconvenient to use. For example, it being hard to get your deck in or out of the box. These problems are often due to the lid in some way.
One common issue I've had is when a box doesn't have lids/tops that are fully removable. When the box is open the tops hang or dangle off of the box. This not only takes up space in the game area while playing but can also make the box unstable and obstructs the cards within. While closing the lid to avoid this means the box has to be reopened repeatedly to access the sideboard or tokens.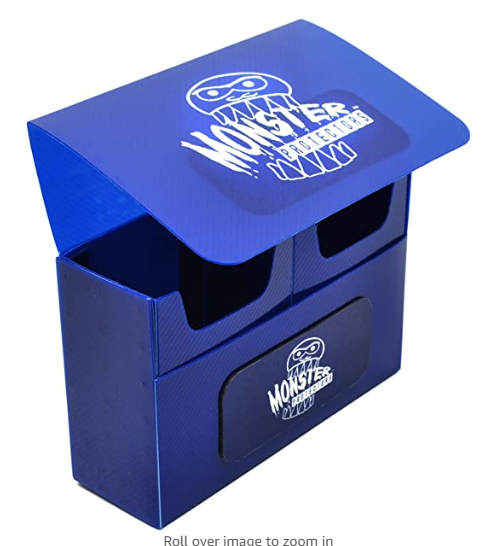 Not to pick on this box by Monster but I've found lid designs like this to be highly inconvenient.
On the contrary, top-tier boxes usually feature lids that are completely removable to save space while also saving players time in games. These issues may not be a deal-breaker for everyone but we're discussing the best so it's certainly something to take into consideration.
Is The Box The Right Size For Your Deck?
Boxes should hold your deck and extras while being as compact as possible. Finding one that is the correct size for your deck is likely priority number one after overall quality and functionality. You want a box that will hold your entire deck. However, you don't want it to be overly large. Too big of a box can be cumbersome and allow cards to move inside due to an excess of space.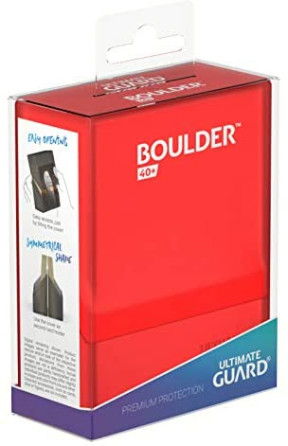 Comparatively, you don't want the box to be so snug that it could cause damage getting the cards in or out. I've had this issue when trying to use smaller options for double-sleeved decks. Double-sleeved cards are a lot thicker than single-sleeved or un-sleeved cards. As a result, this can cause decks to not fit into some lower-end boxes. Many players also use tokens that they would like to include with their deck.
Related: How To Double Sleeve Mtg Cards
Most models of come in many sizes. As an example, let's look at the Ultimate Guard "Boulder" line. Boulders come in 40, 60+, 80+, and 100+ card versions. To clarify, the + here refers to there being enough space for a few extra cards, such as tokens.
This is important as some products can hold only the number of cards stated and nothing more. I find options like these from Ultimate Guard make it easy for me to fit everything I need into a single box while keeping it as compact as possible.
Best Deck Boxes
Now that we have a good idea of what qualities make them good let's take an in-depth look at the pros and cons of the top picks from the top of the page. The "cons" aren't truly downsides but preferences that may tilt players from one box to the other to fit their needs. Customers can rest assured that their favorite decks will be protected in any one of these boxes. With that said, I will also include a few variations and honorable mentions.
Ultra Pro Satin Tower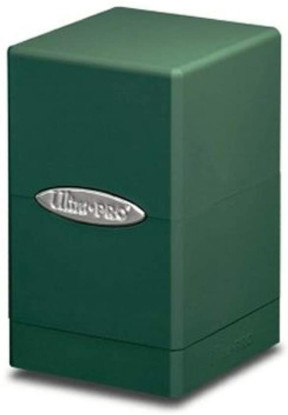 If you are looking to protect your commander deck, look no further than the Ultra Pro Satin Tower. The Satin Tower is made from hard acrylic plastic and has three parts. The lid, the base, and a removable dice tray at the bottom.
The box can hold a double-sleeved commander deck and some number of tokens. The lid is extremely secure and won't come off unless you want it to. Likewise, the dice tray holds a considerable number of dice or counters and is equally as secure.
| | |
| --- | --- |
| Pros | Cons |
| Extremely protective and secure | Not the smallest on the market |
| Can hold 100+ double-sleeved cards | Somewhat heavy |
| Has a storage tray for dice or counters | Dice tray may not be needed by all players |
| Super affordable price | |
This is such a solid box that if it were the only one out there, I think 99% of the player base would be more than happy with it. There are some other choices out there that are smaller, more compact, or lighter. However, these minimalistic features are at the expense of some spaciousness and sturdiness.
The Satin Tower walks the line between size and protection perfectly. With a price tag of only $11, you can't go wrong with this box for commander or any other format.
Ultimate Guard Boulder 80+
Players playing 60-card non-EDH formats can get away with smaller boxes. My number one pick for formats like standard is the Ultimate Guard Boulder 80+. The boulder is a very simple deck box. It has a hard plastic resin shell and comes in two parts – A base and a removable lid.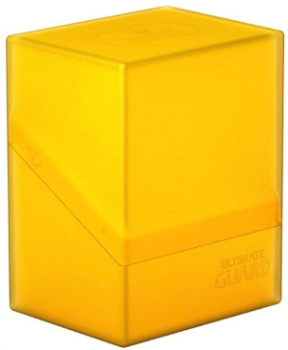 The lid is quite secure and well-designed, and I've never had mine open by accident. The box itself, while compact lives up to its name and is as tough as a rock. Speaking of its compactness, it is a great option for players who have lots of decks or very little space. The Boulder 100 is probably the smallest hard-shell box capable of holding a double-sleeved EDH deck.
| | |
| --- | --- |
| Pros | Cons |
| Very compact and light | Due to their compact size, they can't hold as many tokens |
| Extremely simple and easy to use | Doesn't contain a dice/counter tray |
| Highly secure fully removable lid | |
| Hard plastic shell offers stellar protection | |
Ultimate guard's boulder 80+ is amazing in its simplicity but also excels in all the areas it needs to. Players can load their most prized decks, sideboards, and tokens into a boulder and transport it knowing that it is 100% secure while taking up no more space than is necessary.
Leifkicker Specialty Boxes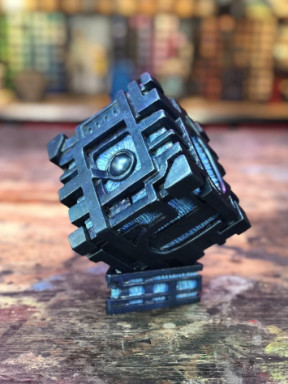 There are a few slightly different designs for deck boxes. However, by and large, they are all pretty similar. Some people like the familiarity of this and are content to simply pick the color of their box. Some people on the other hand like to stand out from the crowd. Players with a taste for the eccentric or unique should look no further than the made-to-order designs by Leifkicker. They are certain to turn some heads and keep your cards protected.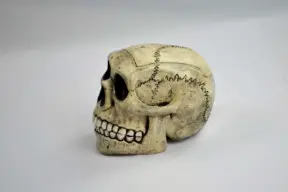 Many of their products are made to look like relics from the game of magic. Players may recognize things like the "mana vault" is molded after the card Mana Vault or the "hedron" similar to the ones featured in Zendikar. The great thing about Liefkicker products is that they are as functional as they are unique. Each of their products has all the same qualities one would expect from a more traditional high-quality box.
My personal favorite is the skull pictured above. The lid is located at the top and slides off to reveal your deck. It is held in place by a powerful magnet that certainly does the job of keeping the top in place.
The jaw opens and is a storage compartment for dice and counters. The mouth holds a considerable amount of dice, including spindown d20s. Furthermore, the hinge is of great quality and won't come open without you opening it.
| | |
| --- | --- |
| Pros | Cons |
| Highly practical designs | Higher price |
| Very unique | Only available from Leifkicker or Etsy |
| Many are art or replicas of things within mtg | |
Quiver Time Card Cases
For players looking to conveniently transport large amounts of cards or several decks in their own boxes, I recommend Quiver Time Card Cases. They hold over 1,000 unsleeved cards, and can comfortably hold five double-sleeved commander decks in separate boxes, dice, and tokens.
It includes four Acrylic separators that can be used with loose cards and five Velcro dividers that go between boxes or cards. It also includes a "corner pad" for each side that ensures that anything on the ends isn't bent. It's made from high-quality Polyurethane (PU) leather that is water-resistant. Having walked short distances from my car to my LGS in the rain, I can pretty confidently say this claim seems legit.
The Quiver Case comes with an adjustable wrist and shoulder strap that makes the case quite an easy way to travel with several decks. The Quiver linked above comes with five deck boxes and 100 card sleeves. If you're looking for a case to carry large amounts of single cards or multiple decks in their own boxes, you can't do better than Quiver Cases.
| | |
| --- | --- |
| Pros | Cons |
| Holds multiple decks w/ boxes | No spot for a playmat |
| Highly protective and durable | Can't hold as many larger deck boxes |
| Great for transporting large amounts of cards | |
Honorable Mentions
While the boxes listed here are considered to be the very best on the market they are by no means the only adequate boxes. Let's take a look at a few honorable mentions for each of our categories.
Commander
Ultimate Guard 100+ Flip n Tray
Ultra Pro Satin Cube
There are many options out there that will do a fine job of keeping your EDH decks protected. So, why choose the Ultra Pro Satin Tower over something like the Ultimate Guard 100+ Flip n Tray? Frankly, the price is the trump card for me.
As mentioned above, the Satin Tower costs around $11-$12. In contrast, the Ultimate Guard Flip n Tray costs around $25. Both have dice compartments, very few downsides, and are very secure and easy to use, the Flip n Tray just costs twice as much.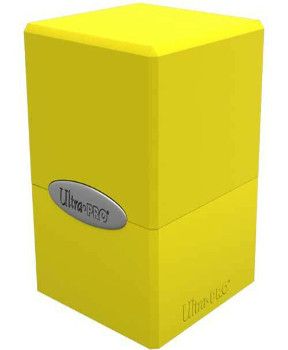 The only complaint that I hear people have with the Satin Tower is that it is somewhat big/heavy. Especially when you're putting several of them into a backpack for example. Ultra Pro heard these complaints loud and clear and released a slightly smaller version of their all-star product. The Ultra Pro Satin Cube is the same as the tower but slightly smaller and without the dice tray. This is a great option for players who don't use dice or are tight on bag or shelf space.
Standard, Modern And Historic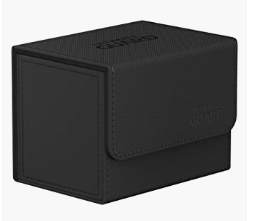 Ultimate Guard Sidewinder 80+
Ultra Pro Satin Tower
There aren't many downsides at all to the Ultimate Guard Sidewinder 80+. It does many things very well, including having great protection and amazing ease of use. So, why should you go with the boulder over the sidewinder? Again the reason is the cost. At around $20 each, a sidewinder costs nearly double the price of a boulder. Some of that money is paying for the material of the box, so that extra money isn't spent for nothing.
However, as far as protection goes both products will do their jobs. So, I give the nod to the box that will do the job for the least amount of money. As always though, feel free to buy whatever box you like the best and if that is the sidewinder, your cards will be in very good hands.
The satin tower makes another appearance here as an honorable mention. If you would like a full rundown of the box one can be found above. I want to mention it here as a good option for players of non-EDH formats who would like a dice tray with their box.
Specialty Items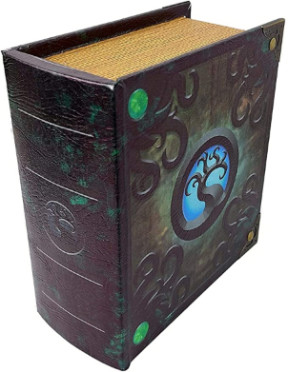 This is the category that will be the most open to interpretation as to what certain people like best. However, I believe that Leifkicker boxes deserve the nod here as their boxes are the most unique I have seen. While also simply being great boxes. I can't think of another product that is as different from standard boxes while still checking all the boxes on the quality list.
However, I did want to mention the Grimoire Wooden Box. It's not designed to hold a single deck but instead can hold multiple boxed decks. This is a super cool way to store several of your decks together on a shelf and it looks cool.
End Step
We all want to make sure our favorite decks stay protected while we store or transport them. Deck boxes are the best way to do this. Hopefully, this list has helped shed some light on which of the many boxes available is right for you and your cards. Now all that's left to do now is grab the box with your favorite deck inside and go play some magic.