Wizards of the Coast recently announced a brand new competitive tournament play structure for Magic: the Gathering. While the pandemic has taken a severe toll on competitive in-person MTG tournaments and ended the previous Grand Prix and Pro Tour system, this new system seeks to revitalize competitive Magic across a multitude of formats. While this new announcement includes lots of dense information don't worry! This guide will help you understand the new organized play system while also giving you an introduction to Magic tournament play as a whole. Let's dive in!
Table of Contents:
What are Competitive MTG Tournaments?
Competitive MTG tournaments are events where you can test your mettle against other local players. Competitive events are much stricter when it comes to rules, falling under "Competitive Rules Enforcement Level." This basically means you have to be vigilant about not missing your own triggers, maintaining game state, and clearly communicating your game actions to your opponent. There are penalties for failing to do these things. 
Competitive MTG tournaments usually include high prize payouts to the top 8 players, usually in cash or store credit. Local competitive events at your local store are usually one day events with larger events such as Grand Prixs and Star City Games events being multiple days. 
Competitive MTG tournaments also bolster high prize payouts or invites to other events. While these events have ranged in shape and size, the hallmark local competitive tournament is the Pro Tour Qualifier (now Regional Qualifier). Pro Tour Qualifier events traditionally were one day events that included swiss rounds with a cut to top 8. After a clear winner is concluded they are awarded an invite to the corresponding Pro Tour event. 
What is the MTG Pro Tour?
At the heart of competitive MTG play is the Pro Tour. The Pro Tour is an event that is invite only. Originating in 1995 in Pro Tour New York, the tournament exists as a way to bring together the best players from around the world. With multiple paths for qualification, the tournament unites both seasoned veterans and new challengers. 
The Pro Tour is traditionally a three day tournament. The first two days consist of three rounds of booster draft of the most recent expansion followed by five rounds of constructed. The constructed format varies from Pro Tour to Pro Tour. At the end of sixteen rounds of Swiss, the tournament cuts to elimination rounds featuring the eight players with the best record. 
The Pro Tour has changed dramatically over the course of the last couple of years. In 2019 the Pro Tour was replaced with a system known as the Player's Tour, which aimed to have three major tournaments that fed into the Players Tour Finals. The first round of Player's Tour events featured Pioneer, in February of 2020. However, with the pandemic the system was discontinued.
Over the course of the pandemic the Player's Tour system changed to Set Championships, which were Arena-based tournaments. Players could qualify for this tournament via MTG Arena and other forms of online play only. However, with Covid restrictions loosening organized play has returned with a vengeance, and we have returned to a system that is similar to the classic Pro Tour system. 
Looking again at the breakdown of the new system, players will be able to qualify for the Pro Tour through multiple paths, including at the local level. Let's take a closer look at the Organized Play announcement. 
MTG Competitive Tournament System Breakdown
Revealed on March 31st, this is new system for competitive MTG tournaments:
Breakdown of the New System:
Local stores provide events once per season. The winners of these events get an invite to the season Regional Championship which occurs three times a year. 
At Regional Championship events, players compete in a two-day tournament. Top finishing players earn qualification to the next Pro Tour. The winner of each Regionals event wins an invite to the World Championship.
The Pro Tour is the hallmark tournament where players from around the world gather to compete for invites to Worlds and a high cash prize payout. 
The World Championship is the top level of Magic competition, featuring 128 players from around the world. 
Similar to systems in the past, this new Organized Play structure is the perfect way for players from different regions and backgrounds to earn qualifications to large-scale tournaments: Regionals, the Pro Tour, and the World Championship. This system supports a wide variety of ways to earn qualifications to high-level tournaments, both through locally held events and online events. 
What about Competitive Online Play?
Wizards also recently announced a brand new system for online competitive play. Here are the important points to know:
Players can qualify for the Pro Tour via MTG Arena Qualifier weekends
Players can qualify for Regionals and Worlds via Magic Online events
There are other ways to qualify for the Pro Tour via MTG Arena other than doing well on the Limited and Constructed ladder every month
Magic: the Gathering Arena Premier Play
Here is the essential breakdown of premier play coming to MTG Arena: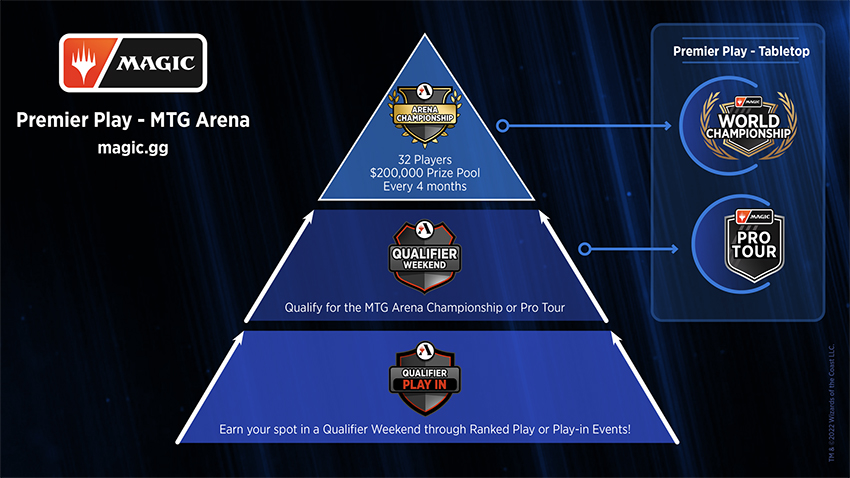 Traditionally, players would qualify for high stakes online events named Mythic Championships through Qualifier Weekends. Mythic Championships replaced tabletop Pro Tours during the pandemic. However, with the new tabletop announcement, these events were discontinued.
To qualify for the Mythic Championship via MTG Arena, you had to reach top 1200 in ranked play in either Limited or Constructed during a single month season on MTG Arena. Then, the following month there would be a two-day event to these 2400 players known as a Qualifier Weekend. Top performing players during the Qualifier Weekend earned their spot at the Mythic Championship.
While this may be a lot of information to break down here is the old system:
Top 1200 in ranked play -> Qualifier Weekend -> Mythic Championship
With the new tabletop and digital premier play announcements, here is what the new system looks like:
Qualifier Weekend -> Pro Tour (tabletop)
With this new digital announcement we also have new ways to get to the Qualifier Weekend without having to grind ladder every month to be top 1200 in either Limited or Constructed.
Ways to Qualify for MTG Arena Qualifier Weekends
In the digital premier play announcement article, Wizards of the Coast explains the new (and easier) process of getting to play in Qualifier Weekends without having to grind each month. Introducing…Qualifier Play-Ins!
Qualifier Play-Ins are events held the weekend before the Qualifier Weekend where entry is open to any player. This means you could enter the Qualifier Play-In, get the max wins, and then immediately get to play in that month's Qualifier Weekend without having had played on the ladder that month.
This is an incredibly positive change that allows players that don't enjoy the ladder system or can't dedicate the time to it to have a path to the Pro tour via MTG Arena.
Qualifier Play-Ins and MTG Arena Event Changes
Another big change coming to MTG Arena with the release of Streets of New Capenna is the inclusion of Play-In points. Play-In points are basically points you can use as your entry fee for Qualifier Play-Ins. These points can be earned in a variety of different events on MTG Arena, allowing you to stockpile entry fee to an event that leads to the Pro Tour while playing casually.
Let's take a look at the new prize structure breakdown for these events. Keep in mind that these new events are replacing the structure for Constructed Events and Traditional Drafts.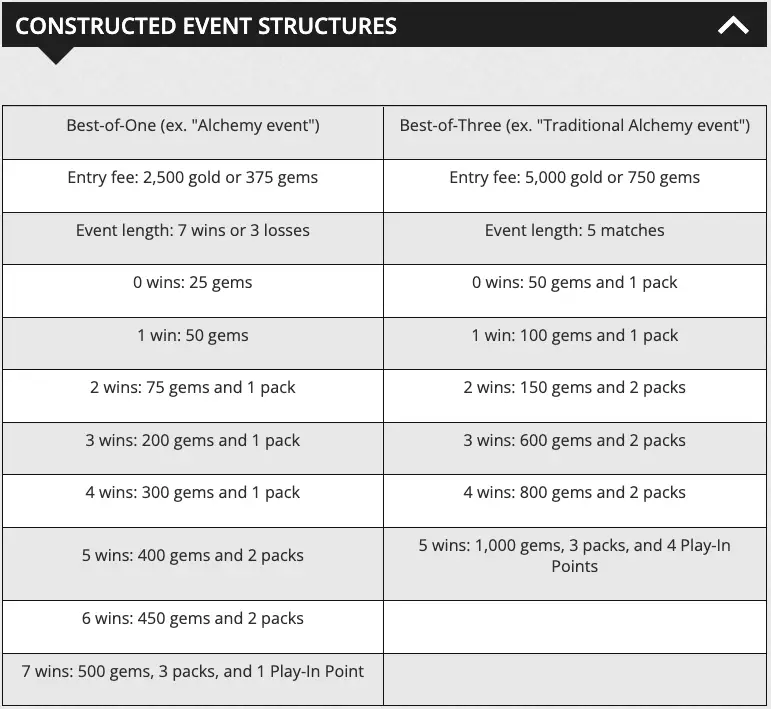 While these events now award less packs, they now award gem prizes on top of the Play-In Points.
Is it Worth it to Grind for Play-In Points on MTG Arena?
While it's exciting to earn points for Qualifier Play-Ins via regular events on MTG Arena, keep in mind that it's actually more worth it to play your daily quests and get your max wins than to grind these events for Play-In points. If you plan to play in a Qualifier Play-In every month, you'd need 20,000 gold for your entry fee. Since you can earn about 1,000 gold or so every day through daily quests and wins, if you play most days during the month you'll have your entry fee.
Related: MTG Arena Codes
However, if you actively play in Constructed Events and Traditional Drafts on MTG Arena, it's a nice bonus to grind to Play-In points that can be used for your entry fee. It's also worth noting that these points don't disappear, and you can earn them over the course of multiple months to use for an entry fee.
Magic Online Premier Play
There are also changes coming to Magic Online's premier play structure. With the new announcement qualifier events via Magic Online now feed into the Regional Championship structure rather than providing direct invitations to the Pro Tour. This is a somewhat negative change for a few reasons.
This is a step backwards for many players, since these events traditionally would qualify players directly to the Pro Tour or Mythic Championship.
Players who win qualifier events via Magic Online and also do well at the corresponding Regionals event to qualify for the Pro Tour now have to travel twice to two events. This negatively impacts players who can't afford the travel or have potential disabilities. Previously players would only have to travel to the corresponding Pro Tour event related to their qualifier on Magic Online. Now players will have to travel to their region's Regionals event and potentially have to travel to a different continent depending on where the Pro Tour is being held that season.
While it's still good that Magic Online continues to be a path for players to qualify for high-stakes play, this new change is unfortunate for players from international countries that might have more issue traveling to multiple events as opposed to one.
What is the 2022 Tabletop Tournament schedule?
Here's a handy breakdown of the 2022 official MTG Competitive Play tournament schedule:
July 2-early November: Regional Qualifiers held at the local game store level
November 18-20: Regionals held at Dreamhack Atlanta for Pro Tour 1
Early 2023: Pro Tour 1 (date and format TBA)
According to the Dreamhack official Discord, a Regional Qualifier schedule will be posted in mid-June. This will have a comprehensive list of tournaments holding qualifiers in your general area.
Related: MTG Arena Explorer Explained
How Can I Find Competitive MTG Tournaments Near Me?
While the official Regional Qualifier schedule has not been released, there are ways to keep up with what tournaments might be in your area. First and foremost, https://locator.wizards.com/ is the premier way to find what events are in your area. This is the official MTG tournament locator website. You can also use it to filter between different types of events and formats.
Next is checking the official Dreamhack Magic website. This website will keep up to date with information on Regional Qualifiers as well as information for every Regionals event. You can also find a link on this website for the Dreamhack Magic Discord where you can ask questions to various members of the Dreamhack Magic team. 
Other independent organizers such as Star City Games and Nerd Rage Gaming have information about their events on their websites. The SCG events are on the East Coast with NRG events in the Midwest. 
Finally the last great resource for finding local tournaments is social media. Many stores keep up to date on Facebook, Discord, and their personal websites for posting upcoming larger events. Keeping tabs on the various stores in your area is a good way of knowing what competitive events are coming up.
What are Regional Qualifier Events Going to be Like?
As stated in the Organized Play announcement, Regional Qualifier events begin on the weekend of July 2nd. These events can be any of the following formats: Standard, Pioneer, Modern, and Limited (Sealed/Draft). Typically these events are around five to six rounds of play. After these rounds there is a cut to the top 8 best performing players with three single elimination rounds following.
Rounds are fifty minutes in length. When time is called players play an additional five extra turns total. If there is no winner at the end of the match it is considered a draw. Players are required to play at an adequate speed during their matches. Failure to do so can result in penalties.
Since Regional Qualifier events are one-day events with around 30 participants, most events will be five rounds with a cut to top 8. Events that are above 32 players and less than 64 will be six rounds. On average that means these events will last eight hours from start to finish.
How Should I Prepare for a Competitive Tournament?
Preparing for MTG tournaments can be a daunting task, especially if you're attending your first. However, knowing what to bring and how to make your deck optimal before the event will go a long way.
Knowing the Format
If you plan on playing a Constructed tournament make sure you're familiar with the format. You want to have an understanding of both your deck choice and how it interacts with other popular decks in the format. This will affect how you play during the match and how you sideboard. For example, if you're playing an aggressive Mono-White Standard deck you should probably know what type of "wrath" effects your opponents' might have to dismantle your strategy. Doomskar, The Meathook Massacre, and Farewell are all tangible cards your opponents could bring to your Standard event. That being the case, Guardian of Faith might be a sideboard card to consider to counter these cards.
Having a Sideboard Guide
One important tip to know as a Constructed player is to have a sideboard guide for your event. If you know what the top decks in the format are you can make a plan on what cards you can sideboard in and out during a match. You are allowed to check a small page of notes between games. This will greatly expedite your sideboarding process and prevent you from making basic mistakes. You also don't have to strictly follow any one guide, but it will help you mentally shortcut throughout an event.
Learning the Cards
If you plan on playing a Limited tournament it's also important to be familiar with the format. Any given Standard Magic set has over 250 cards in it. This means you should know what each individual card does. You're going to waste mental energy having to read cards over and over. This can also waste your clock during the tournament since rounds are timed. Taking too much time to think and read when you're unfamiliar with the set can also lead to penalties.
What Should I Bring to a Tournament?
There are a couple of key items to bring to Magic tournaments. Competitive MTG events are long and can be mentally and physically exhausting. It's important that you have everything you could need in your bag to make it through these events.
Here's a checklist of what I usually pack for a competitive all-day tournament:
My deck of choice
Extra cards and sleeves in case any get damaged
Sleeves, basic lands, and tokens (if the event is Limited)
Water and snacks
Dice
Playmat
Pen/paper
Ibuprofen
Phone charger
Headphones
While this list may seem excessive, each item plays its own unique role. I always bring extra cards in case I want to make any last-minute sideboard changes. Sleeves can break easily so it's important to have extras on hand. Bring a printed out decklist to the event so you don't make any mistakes writing it out. This is a small note but if you write your decklist out at the event your opponents might be able to see what you're playing.
Related: Best Card Sleeves
Be Conscious of Your Physical and Mental Health
Keeping up with your physical health during an event is also important. Regional Qualifier events will at the minimum be five rounds of Swiss with a cut to top 8. If you plan on winning the event you'll have to play a minimum of eight rounds throughout the day. That's not even accounting for deck registration, build time, and drafting if the qualifier is Limited. It's important you stay hydrated and have enough energy to make it through the day. I usually bring a water bottle and nuts or other sorts of healthy snacks with me.
One of the worst things you can do before an event starts is scramble for materials you need. I always pack dice and pen and paper so I don't have to ask anyone to borrow it. Using pen and paper avoids life total discrepancies during a match. Say you and your opponent disagree on your life total and you've been keeping track using an app. A judge is more likely to side with the player keeping track of life total on paper, since they'll be able to clearly see all the changes in life total over the course of the game. Use pen and paper to avoid any issues that might come up regarding life totals.
Finally, I always bring Ibuprofen and headphones with me to events. I like to listen to music to pass the time between rounds. This also removes me temporarily from the high-pressure tournament environment. Events can be mentally taxing, so having some Ibuprofen in your bag can temporarily relieve physical pain. Always pack a phone charger, especially if you're using your phone to track life totals.
What are MTG Tournament Rules?
The first thing to know about competitive MTG tournaments is that they are run at Competitive Rules Enforcement Level (Comp REL). Comp REL events have stricter rules enforcement. This can mean a few key things. If you miss a triggered ability that would be beneficial you cannot rewind the game to that point, unless you catch your mistake quickly enough. 
For example, if you cast Virus Beetle, say nothing, and then say "pass turn," your opponent does not have to remind you that they have to discard a card. If you realize this during your opponent's next turn too much time has passed. However, if you had a case in which you cast Virus Beetle, say pass turn, and then quickly make note of your trigger before your opponent can untap and draw for their turn, you will most likely get your trigger. The main reason this penalty exists is to prevent cheating. 
At Comp REL events you must also submit a written or digital decklist (based on the tournament organizer's rules) prior to the first round of the event. This is also to prevent cheating. Usually throughout Comp REL tournaments randomized "deck checks" will happen. Players face penalties if their physical deck doesn't match up to the deck they submitted prior to the tournament start. 
Know When to Call a Judge
Another important thing to keep in mind during these events is bribery. Say you're matched up against an opponent with a worse record than you. If you win this match, you will make top 8 while your opponent will not make top 8 whether they win or lose. You are free to ask your opponent for a concession in this situation, as long as they have no benefit. If you were to offer them something tangible, such as money or booster packs, you would immediately be disqualified for bribery. These situations can be tricky, if you ever find yourself in one always consult with a judge to navigate it appropriately. 
The last important thing to keep in mind in these events is communication. You're responsible for keeping track of life total, accurately maintaining the board state, and being cordial to your opponent. If you're brand new to competitive tournaments do your best to keep a positive attitude and communicate clearly through your game actions. If you have any issues come up or need assistance, always ask a judge. Judges are there to help players and maintain the integrity of the tournament. 
For more information on MTG tournament rules and understanding competitive events try this handy link: https://blogs.magicjudges.org/playerexperience/2016/03/01/rules-enforcement-level-what-are-they-and-what-they-imply/
What Makes a Competitive Tournament Deck?
While there isn't exact criteria of what makes a certain deck tournament-level or not, traditionally the best way to approach choosing a deck for tournaments is based on results of the current metagame. For example, if I had no idea what to play in a Pioneer tournament that was happening the next day (and I had access to every card in the format) I'd base my deck decision on top performing decks from either large paper tournament results or results from Magic Online tournaments. 
Different formats will have different current metagames that change weekly, with wildly different decks and strategies. The best way to keep up to date with the decks in formats like Standard, Pioneer, and Modern is to track what decks are either winning or putting up top 8 results on Magic Online. 
Link: MTG Competitive Deck Lists
Usually tournament winning decks have a cohesive strategy and play playsets of some of the strongest cards in the deck. For example in Modern, the popular Burn strategy plays almost four copies of every card. In Burn, every card in the deck is or is similar to Lightning Bolt. The deck is built on drawing multiple of this effect and it's why the deck plays cards like Lava Spike, Rift Bolt, and Skewer the Critics, to name a few.
On the other hand, decks might play less copies of cards if they're bad in multiples. For example, in Pioneer Blue-White (Azorius) Control plays only two copies of The Wandering Emperor. Since planeswalkers are legendary you don't want to draw too many copies of this card since once you have in play you'll have little when drawing the other copies. Nevertheless, tournament decks across formats can be wildly different. It's crucial to stay up to date with the formats to predict what decks your opponents might bring to qualifier events. 
End Step
After years of no official paper Magic Organized Play system, the Pro Tour is back and better than ever before. July will usher in the return of competitive tournaments at the local level. With Regionals in November, players new and old will be fighting for their chance at a slot.
MTG competitive tournaments can be a bit intimidating, especially if you come from a background primarily playing MTG Arena. Once you begin to understand how tournaments operate and practice playing at a higher level, you'll find it easy to assimilate into the tournament environment.
I hope you found this guide helpful in understanding the changes to competitive tournament play and wish you luck in your next event!
-Roman Fusco