One of the biggest problems board game lovers face is not having anybody to play their favorite games with. Luckily, there are some great websites out there that let you play board games online, for free! No matter what your favorite genre is, whether you want to compete with friends or strangers, there's a platform out there to suite your needs.
Overall, Board Game Arena is the best option on the web today. BGA currently has over 500 games to choose from, and over eight million users to share a game with.
While Board Game Arena is our number one option, there are some other great sites out there that might suite you better. Read on for a detailed guide to finding the perfect platform to play board games online.
Table of Contents
Board Game Arena
| | |
| --- | --- |
| How Many Games: | 500+ |
| Types of Games: | Strategy, kids, classic, etc |
| Popular Titles: | Catan, Puerto Rico, Chess, Carcasonne, 7 Wonders |
| Payment Options: | Free to join / $5.00 a month for unlimited access to all games |
If you're interested in playing board games online, Board Game Arena is the place you should start. BGA has millions of registered users, and over 500 of the most popular games in the world. You can play classic games like Chess, Spades, and Yahtzee, as well as more complex games like 7 Wonders, Catan, Stone Age, Puerto Rico and Terra Mystica.
BGA is also the fastest growing site on this list. That means that if there's a brand new release you're looking to try out, it'll probably be available on Board Game Arena before it's available anywhere else.
Taking Turns
Board Game Arena gives you the option between real-time games and turn-based games. If you choose a real-time game, you and the other players will stay with the game from start to finish all in one go. If you choose the turn-based option, one player takes their turn and then logs off and waits for the next player to take their turn. It often takes hours, sometimes even days, for your turn to come back around. When it finally does, you'll get an email notification.
This turn-based style is nice since it takes the pressure off, and lets people with a busy schedule still enjoy the games they love.
Real-time games is, of course, the best option if you can manage it. It's important, however, to make sure you can finish a game before you start it. If you have to leave before it's finished, it'll hurt your reputation, and other users might not let you join games in the future. This reputation system is a nice feature since it reduces the amount of time wasted on unfinished games. There's little else as frustrating as having a game's progress ruined by someone who drops out. Thankfully, that scenario isn't too common on BGA.
Gameplay

Another important area that Board Game Arena really shines in, is gameplay. BGA keeps everything as simple as can be. Everything is intuitive and natural. In fact, you can pretty much do everything you need to do with the simple click of the mouse.
For example, if I'm trying a game for the first time, I can use the mouse to hover over any piece, and BGA will immediately tell me how that piece works. And then, if I click the piece, it'll automatically go to its place on the board. If you do something by accident, simply click the handy undo button to reverse it immediately.
I really appreciate this simple approach to gameplay. It takes away the stress of operating a complex set of controls and lets me concentrate more on my decision making.
BGA Community
One potential downside that I have to note is: BGA has the biggest player base out of any online board game website; this is great for finding active games, but it also leaves a lot of room for bad-apples in the community. Unfortunately, as with most online forums, there is a decent bit of arguing and hostility on BGA. This can make it stressful to play games that you haven't mastered yet.
Some users have also noted a problem with cheaters who use multiple accounts to take control of a game. This isn't the norm, however, and I've personally never experienced this.
The BGA community is definitely not perfect, but there are still far more friendly, patient players on BGA than there are meanies.
Is Board Game Arena Free?
Board Game Arena is completely free. All you need is a valid email address. The only downside with the free BGA membership is that you can't create a table for any premium games (all of the best games are Premium.) Instead, you'll have to join somebody else's game. This isn't an issue unless you want to host your own private games for you and your friends.
As well as the ability to host Premium games, a Premium membership also give you access to in-depth stats, color selection, and video/voice chat. Currently, the cost to go premium is $5 per month or $30 per year.
The Verdict
Board Game Arena has a huge selection of games, awesome gameplay, and is free to use. If you're looking for a place to play board games online for free, you can do no better than BGA.
RELATED: The Best Party Board Games
Tabletopia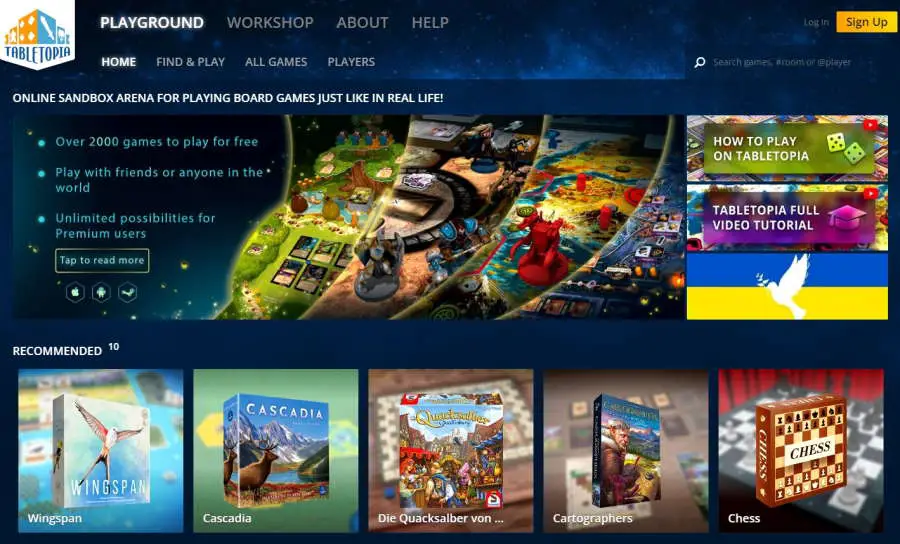 | | |
| --- | --- |
| How Many Games: | 2000+ |
| Types of Games: | Strategy, kids, classic, etc |
| Popular Titles: | The Crew, Chess, Scythe, Terra Mystica |
| Payment Options: | Free for most games, $49.99 a year for unlimited access to all games |
Tabletopia is an interesting platform. It offers thousands of games, more than almost any other site on the web. And, while it might not have as many users as Board Game Arena, it's never challenging to find willing participants.
Although, Tabletopia has thousands of games to choose from, that number is a tad bit inflated. Tabletopia does have a huge selection of games, but a lot of the games are obscure titles. If you're looking for the most popular titles such as 7 Wonders or Catan, you'll have a harder time finding them here than on BGA.
That said, Tabletopia is amazing for people who like trying new games. You can also use the platform to create your own games, or digitalize a game you've made in real life.
In my opinion, Tabletopia's best feature, is it's interface. This site outperforms all others in terms of searching for games. It lets you filter by age, number of players, language, etc… The homepage, and the menus are all beautifully done and easy to use. In terms of accessibility, Tabletopia is hard to beat.
Gameplay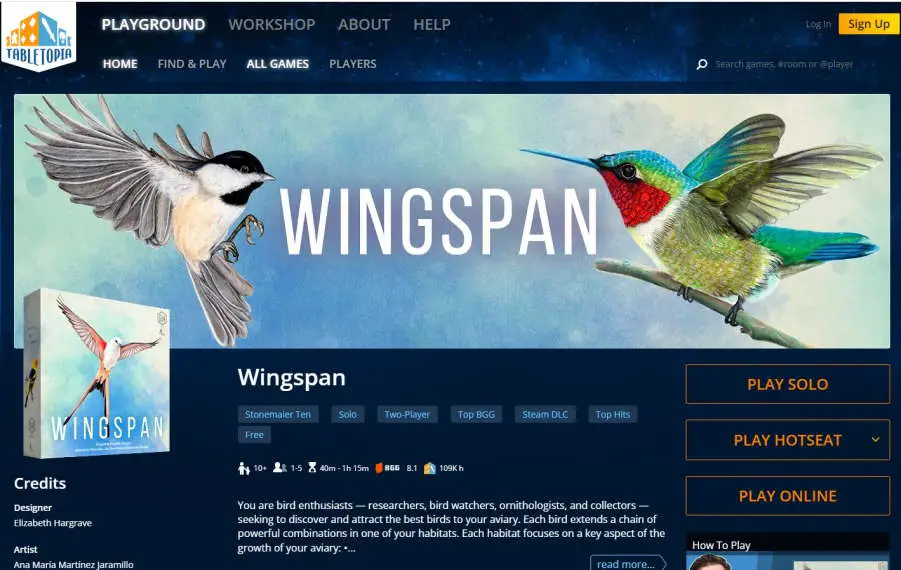 Tabletopia's gameplay style is usually either loved or hated. Tabletopia is a real-world simulator, meaning you play games on Tabletopia almost exactly how you would in real life. It's like the board and all the pieces are really there in front of you. You can pick up anything and move it anywhere, just like in real life.
For example, if you're playing chess, you can move your pawn all the way across the board as if it's a queen. Your opponent won't be happy, but just like in a real-life game, it's possible.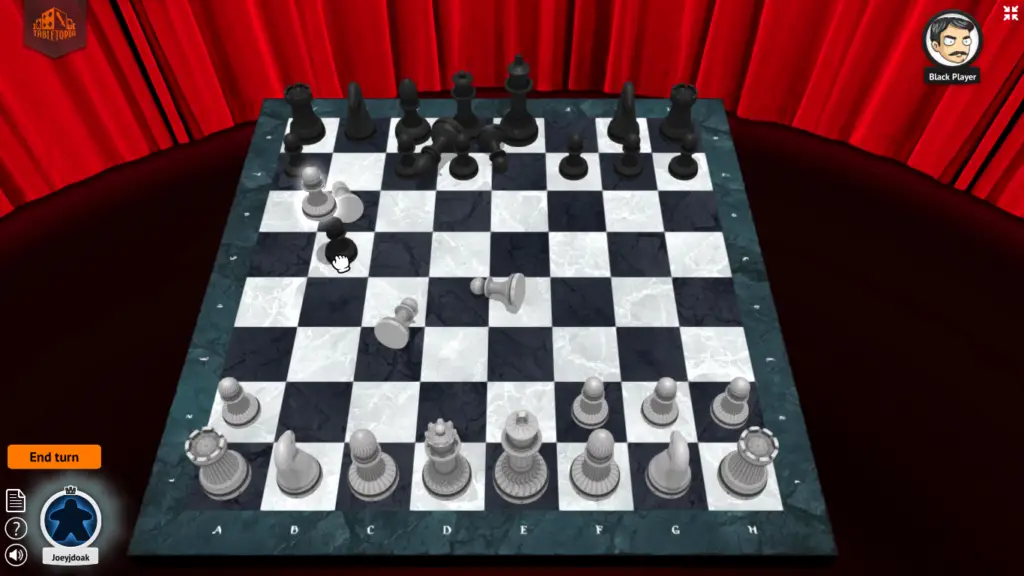 This gameplay style is definitely cool, but, in my opinion, it's not exactly the easiest. To me, grabbing and dragging all of the pieces I need to move just feels clunky. And it leads to some annoying situations that are easily diverted by other websites.
Let's take chess for example again, if I'm going to capture one of my opponent's pieces, I can't actually move my piece into my opponents piece like I would in real life. Instead, I need to click my opponents piece, drag it off of the board, and then move my piece onto the vacant space.
The mouse or hand that you use to move pieces is also a bit delayed and inaccurate. Pretty often, I'll end up dragging the entire board instead of the piece I intended to.
Tabletopia's gameplay does have a nice sense of simplicity, but overall, I think it lacks the practicality and effortlessness of other platforms.
Is Tabletopia Free?
Yes, Tabletopia has a free version. Not all titles are available for free, however. Tabletopia Premium is required to access certain games.
The price for a Premium account is currently $49.99 per year. This gives you access to all premium titles and lets you have up to six different games open at once.
The Verdict
Tabletopia is a great looking website. It has an awesome interface that lets you easily filter results and find the right games. Whether you have a free account or premium, Tabletopia offers a huge selection of titles to choose from.
Tabletopia's gameplay isn't as smooth and effortless as Board Game Arena's, and its selection of the most popular titles is also a bit lacking. Still, if you enjoy the real-world simulation style, it's definitely worth checking out Tabletopia.
Yucata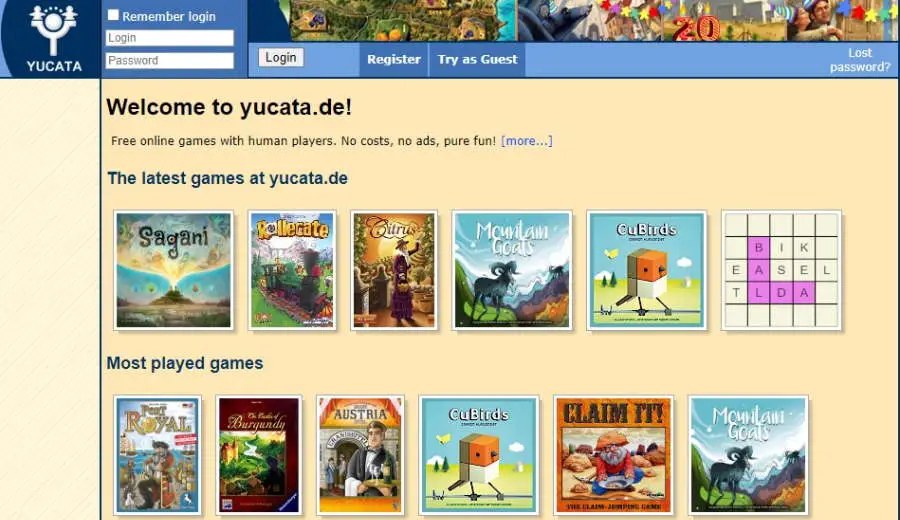 | | |
| --- | --- |
| How Many Games: | 200+ |
| Types of Games: | Strategy, classic, coop, etc |
| Popular Titles: | Stone Age, Port Royal, Mountain Goats, Terra Mystica |
| Payment Options: | Completely Free |
Yucata is unique in that it's one of the only places you can play a variety of popular titles without even registering. That's right, on Yucata, you don't even need to sign up before you start playing.
The interface on Yucata isn't quite as nice and welcoming as the previous sites I've mentioned. In fact, it looks like it hasn't been updated since the early 2000s. With that said, however, it is usable. You don't have very many filtering options. Instead, you'll need to look through all of the games alphabetically, which isn't too hard considering there's only about 200 games currently available.
Despite the outdated interface and the relatively small selection of games, Yucata is still a great website. This is especially true if you're looking to play turn-based games.
Turn based games is really where Yucata starts to shine. The majority of users on Yucata will be looking for turn-based games. That, combined with the smaller selection of titles, makes it easier than ever to find players to join a game. It's not uncommon for games on Yacuta to go on for days while all the players take their turns.
Gameplay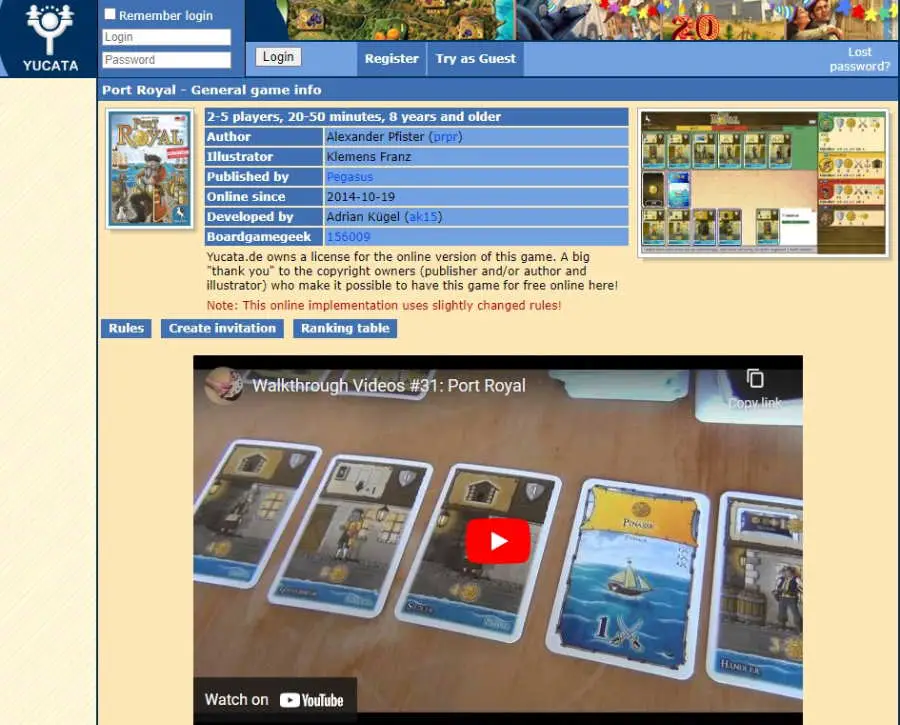 Yucata gameplay is surprisingly nice! The controls are simple. Everything works without any lag. I have no complaints about the gameplay here. Yacuta is similar to to BGA in that the game helps you out as much as possible. If you need to know what a card or a piece does, you can simply hover over it and click the small question mark icon.
You can also take notes so you don't forget your strategy by the time your next turn rolls around. This is nice since it usually takes a few days. You can also use the handy rewind feature to view you and your opponent's past turns.
Is Yucata Free?
Playing board games online via Yucata is absolutely free. In fact, there's not even a premium option for this website. Every player automatically has access to all the features. Furthermore, Yucata is completely ad-free!
The Verdict
Yakuta is an old-school style platform that offers all of its services at absolutely no charge. I highly recommend Yakuta if you're looking to play turn-based board games, since that's really it's bread and butter.
RELATED: Best Board Games for 2 People
BrettSpielWelt

| | |
| --- | --- |
| How Many Games: | 70+ |
| Types of Games: | Strategy, Coop, Classic etc |
| Popular Titles: | Marco Polo, Catan, Tichu |
| Payment Options: | Completely Free |
BrettSpielWelt is a German website that offers a nice variety of classic and modern games. Although BrettSpielWelt primarily uses the German language, some of the site's features are available in English as well. You will need a java-enabled browser to use BrettSpielWelt.
In terms of content, BrettSpielWelt is kind of like a mix between all of the other online platforms I've mentioned so far. It doesn't have as many big-name titles as Board Game Arena or Tabletopia, yet it has more than Yucata.
The one area that BrettSpielWelt lacks in, is its accessibility. At least for non-German speakers, BrettSpielWelt is hard to use. A lot of the site is translated, but not all of it. For me, it wasn't too impossible find games on BrettSpielWelt, but learning to play them was another matter entirely.
As you can see here, even though the menu is in English, the actual description and instruction for the game are still in German.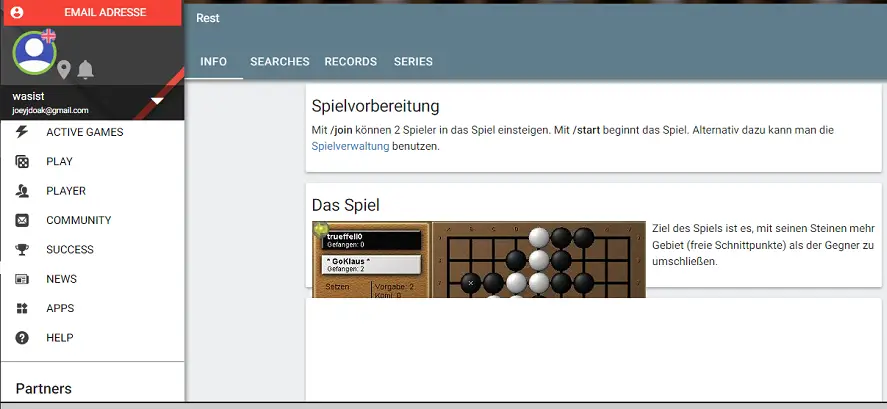 Gameplay
The gameplay on BrettSpielWelt is a mixed bag. On one hand, the controls are simple enough, and unlike the tabletop simulators, the website offers guidance and rules. The bad part, however, is that the guidance is again mostly in the German language no matter what language preference you've selected.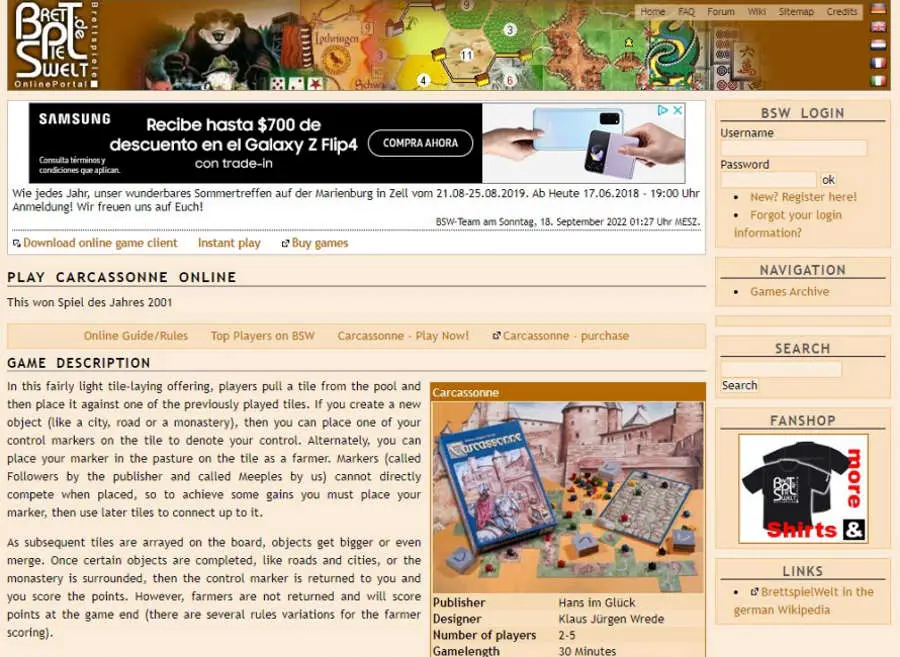 I really wouldn't recommend using BrettSpielWelt for games that you haven't already mastered.
Is BrettSpielWelt Free?
Yes, BrettSpielWelt is complerely free to use! All you need to register is your email address.
The Verdict
BrettSpielWelt has a solid selection of popular titles, and it's completely free to use. With that said, however, it's one of the least accessible gaming websites I've ever used. If you can't read German, I wouldn't recommend using BrettSpielWelt unless the website has a game that you already know how to play very well.
Poki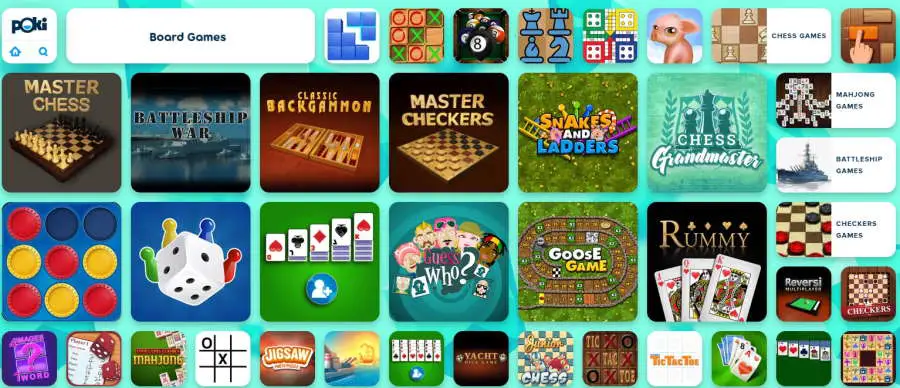 | | |
| --- | --- |
| How Many Games: | 1000+ |
| Types of Games: | Strategy, Classic, Shooters, Children's, etc |
| Popular Titles: | Chess, Battleship, Minecraft, Subway Surfers |
| Payment Options: | Completely Free |
Poki is a bit different than the other websites I've mentioned so far. While the other websites are more focused on providing serious titles, Poki takes a more light-hearted approach.
Poki's specialty is games like Chess, Battleship, Backgammon, and Tetris, but it also offers games like Sushi-Go, as well as puzzlers and action games.
Poki has hundreds upon hundreds of different games to choose from, making it a good option to browse around on when you're bored. As far as actual board games go, the selection isn't amazing. Sushi-Go is probably the most well-known non-classic board game title available here.
Mostly, Poki is filled with board games like Chess, Checkers, Scrabble, Battleship, Boggle, as well as a plethora of other light games.
Gameplay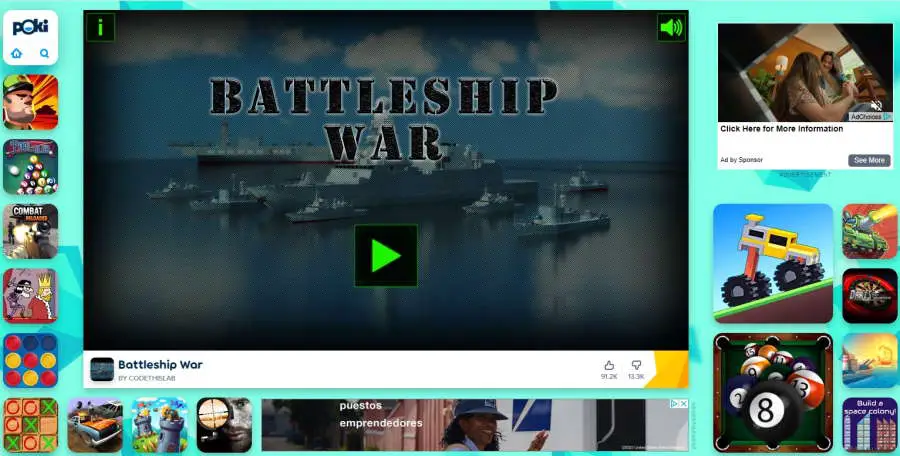 The gameplay on Poki is really varied. A lot of the simpler games, like classic Battleship, operate well-enough. With that said, however, I have experienced a number of frustrating issues with games on Poki. For starters, there are a ton of ads which interrupt your games at random points. During one game, I got hit with the same ad over and over again every two minutes or so.
And then the gameplay itself can be pretty clunky. This is especially true for games that have a lot of moving parts. One of the must frustrating issues I encountered was windows refusing to close. For example, in a game called "Guess Who's Lying", once I clicked the "Clue" prompt, it simply would not go away, and blocked most of the screen, making the game unplayable.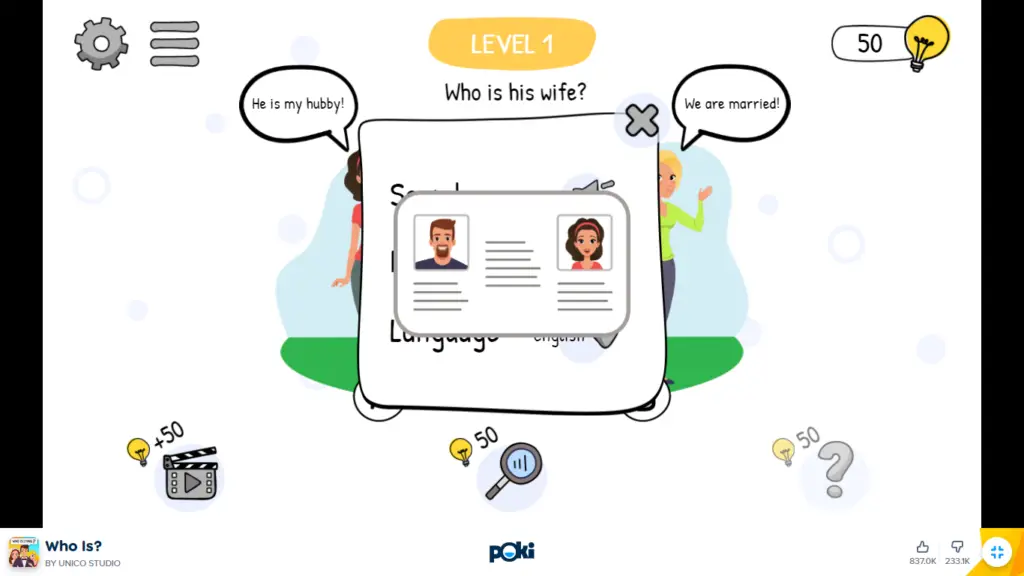 Is Poki Free?
Yes, Poki is 100% free to use! You will have to endure lots of ads, though.
The Verdict
Poki has tons of fun and simple games, and a respectable collection of classic board games. You won't find big name brands here, but you'll almost certainly find something that interests you. If you're looking for a light-hearted site and you're willing to endure some frustrations, Poki can be a decent website to try out.
RELATED: The Best Cooperative Board Games
Other Ways To Play Board Games Online
Now that we've covered the best free sites, let's take a look at a few other ways to play.
Tabletop Simulator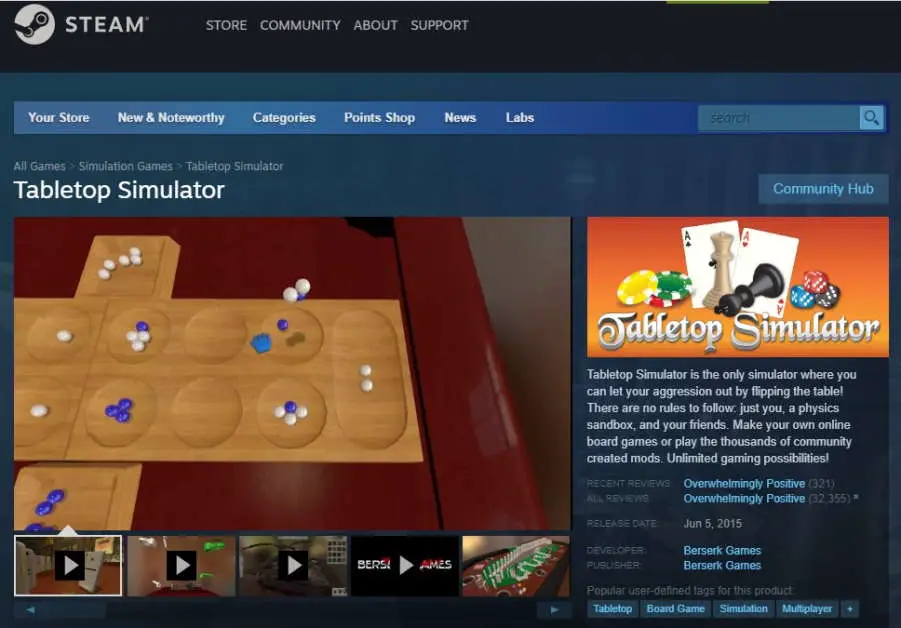 If you're willing to make a one time purchase, Tabletop Simulator is an amazing app. Currently, the app costs $20 to purchase, but once you own it, it's yours and you won't have to dump any more money into it.
There are official games that you can purchase to play on Tabletop Simulator, but these are relatively few. The most common way to find games on Tabletop simulator is by searching the Steam Workshop page for user-created versions of popular board games. These are free to download, and you can find basically any game in existence.
Downloading and playing games for free this way does raise ethical concerns with some users. After all, you're not exactly supporting the developers this way. Most users are of the opinion that at least one player in each group needs to own the physical version of the game. This is basically the same as an owner of a board game inviting a bunch of friends who don't own the game over for a session.
My advice on the situation is just to not abuse the system, and to support the creators of games whenever you can. In my opinion, there's nothing wrong with using Tabletop Simulator to try out games before you buy them or to play with friends over long distances.
Gameplay
Once you own the app and you've downloaded a game, the rest is really simple. As the name suggests, Tabletop Simulator is basically a digital version of a real tabletop.
In Tabletop Simulator, the board and the pieces are 3D models that can be moved and manipulated just like a real-world board game. There's no scripts or enforced rules. Everything is left up to the players.
This free concept is necessary to support so many user-made games, but it's not always the most convenient. Like Tabletopia, which I mentioned earlier, the gameplay takes a lot more time and effort compared to games with scripts and enforced rules.
It's also a lot harder to learn games this way, since the platform gives you zero guidance. And, of course, it's always possible to get an unruly opponent who literally flips the virtual table and scatters all of the pieces across the floor.
The Verdict
If you're willing to spend the initial $20 to get the app, Tabletop Simulator can't be beaten in terms of available games. You can find almost any game in existence.
Since the majority of the games are user-made, the visuals might not be quite as good as from other official platforms, but they're still fine. If you're main concern is having unlimited access to all of your favorite games in the same place, and you're willing to spend a little money, Tabletop Simulator is the perfect choice for you.
Best Board Game Apps and Websites
In addition to the many online platforms we've mentioned so far, many of your favorite board games have their own apps and websites. Some of the apps cost money, but buying them is a great way to support your favorite game designers. And there are also plenty of apps and websites that are completely free!
Catan Universe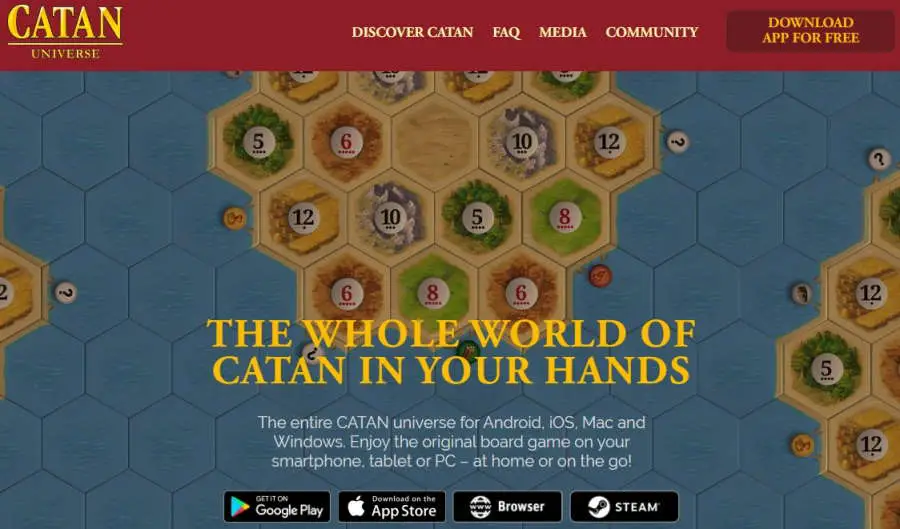 Catan Universe is a free app for iOS, Android and Steam. If downloading apps isn't your thing, you can also play Catan Universe via web browser.
As the name suggests, Catan Universe gives you digital access to pretty much all of the Catan content that has ever been released. This handy app includes the base game, all of the expansions, and the card game.
The app looks really nice; I have no complaints with any of the visuals. The gameplay, on the other hand, is a bit janky if I'm being completely honest. Placing settlements, for example, can be quite the challenge since the drag-and-drop function isn't very accurate. There's also no undo button, which is extremely frustrating.
The app also has some issues with lagging and shutting down unexpectedly.
The Verdict
Catan Universe generously offers a free way to play one of the most beloved board games of all time. The controls and the bugs, however, hold the app back from being truly great.
Still, if you have a Catan itch, Catan Universe is a suitable alternative. Just be prepared to deal with a few frustrating aspects.
Get Catan Universe Via:
Dominion.Games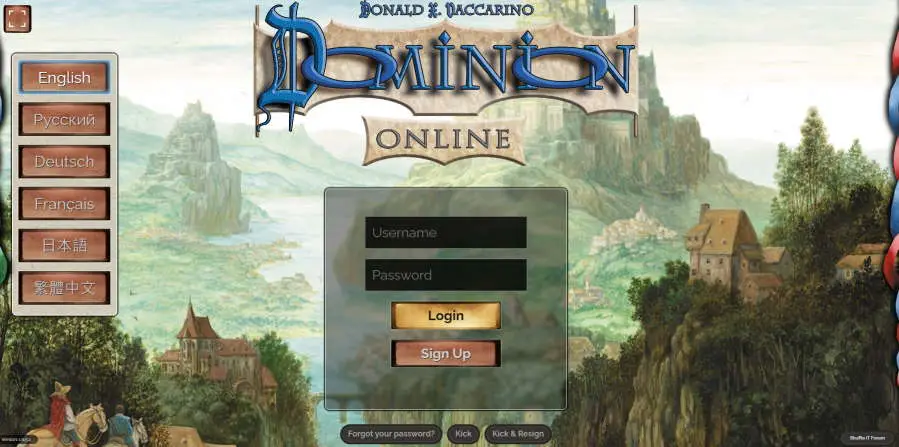 Dominion is one of the most popular deck-building board games of all time, and now it has a digital version. The Dominion.Games website is an extremely simple and easy way to enjoy Dominion. It's completely free and there's no need to download anything. In fact, all you need is an active email address.
The gameplay is super smooth and easy. This is, no doubt, partly owing to the simplicity of the game itself. But still, I've seen digital versions of even simpler games do a lot worse. I tested the Catan app right before testing Dominion.Games and the contrast in smoothness was crazy.
If you choose to play Dominion online, you'll experience no frustrating lagging, bugs or anything of the sort. The chat and the replay is super organized. There's really nothing not to love here.
Dominion.Games lets you go against bots or other real users. The bots are okay, and can be great if you find competing against real people stressful. Playing with your friends or even with strangers, though, is the most fun way to enjoy Dominion.
The Verdict
I love the ease and simplicity of Dominion.Games. I find it actually more convenient than having a game in real life. It gives you the option to auto-play all of your treasure, so you won't need to click on each one separately. And it also automatically shuffles your hands back into your deck, shuffles the deck, and draws new cards each turn. All of this makes Dominion even more fast paced than usual.
The gameplay is as fun as ever, and there's no hassle. What else could you want? I highly recommend Dominion.Games if you're into deck-building board games.
Play Dominion Via:
Mysterium App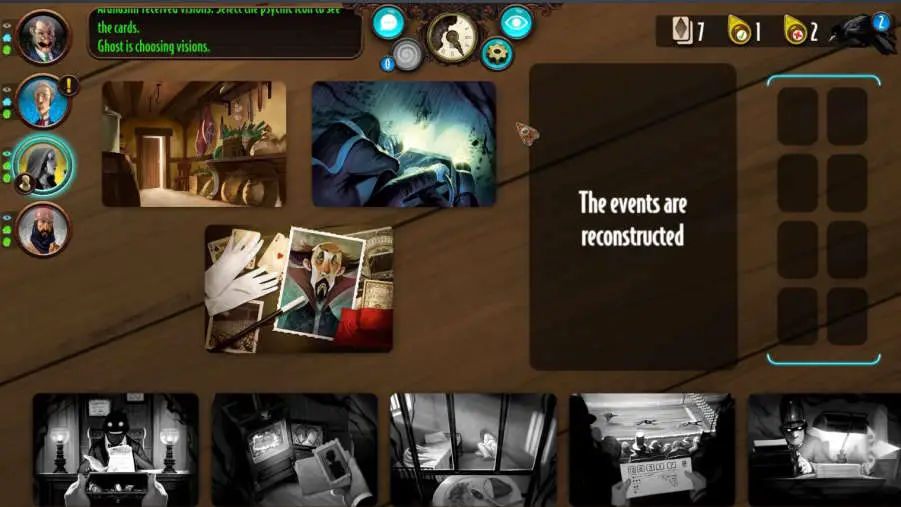 Mysterium is a unique and challenging cooperative board game that tasks the group with solving a murder mystery. The catch, however, is that the victim's ghost is also a part of the game. The ghost is usually played by a member of the group, but can also be controlled by a bot in the digital version.
That leads me to my first main point. In the Mysterium App, the single-player games really seem pointless. Much of the appeal of Mysterium is lost if you don't have real comrades to help you. After all, Mysterium is all about figuring out vague hints and getting on the same wavelength as your teammates. Those vague elements are what make Mysterium so intriguing, and unfortunately, those elements are completely lost when you're playing with AI.
Once you have other real comrades, however, , Mysterium is as fun as ever. Thankfully, it's not hard to find other players online. The app also gives you the option to play with friends in person, all on the same device.
The Verdict
The Mysterium App isn't free; you'll need to pay a modest $3.99. I personally think the price is well worth it though, considering how awesome Mysterium is.
If you're a fan of Mysterium, or if you're thinking about giving it a try, the Mysterium App is a great way to experience the game.
(One thing I have to mention: I originally bought the app on Steam, and I did encounter a big problem. After I made the purchase, the app simply would not launch no matter what I tried. After doing some research, I found out that many apps on Steam haven't been updated by the developers, and as such, simply won't launch. I was able to get a full refund, but still, not a great experience overall. For now, I recommend getting the app on Google Play or the App Store.)
Get the Mysterium App Via:
Conclusion
If I had to recommend just one free website to play board games online, it would be Board Game Arena, without a doubt. If you don't mind paying a bit of money, however, you can do no better than Tabletop Simulator in terms of sheer playability. The other sites on this list are all fine options, too, with their own sets of pros and cons.
It's so nice for us board game lovers to be able to get our fix even when we don't have anybody to play with in person. And thankfully, we don't need to pay our hard earned cash for the privilege.
Until next time, I wish you the best with your board game journey, whether it be online or off.